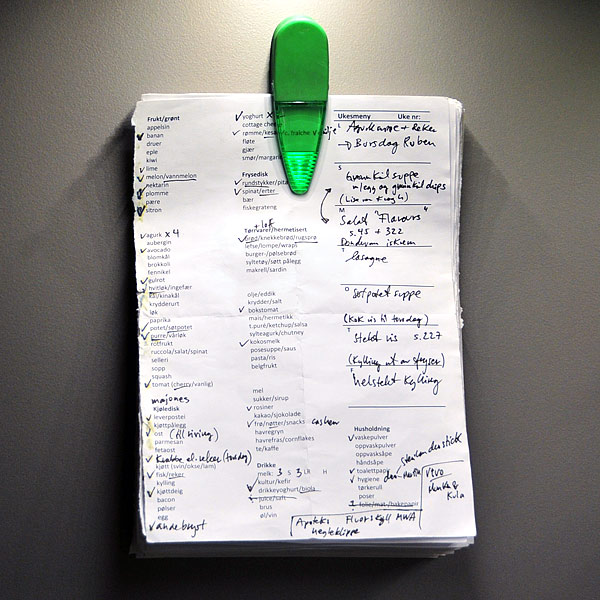 It's been a long hiatus, more than 3 years since the last blog post! I've been busy, but fortunately not too busy to cook. Despite desert like conditions on the blog, many desserts have been prepared and enjoyed! Looking back, I think one reason me and my wife have had time to cook is our weekly dinner plan and grocery list. I do most of the shopping, and I normally only shop once a week. In stead of starting a grocery list from scratch every week I have a generic list where I can tick of what I need. There's enough space so I can add specifications and stuff that's not on the list. In all its simplicity it is a list of what I normally get at the grocery store, organized according to food categories and the layout of my local supermarket. This saves time! The list has been compiled and adjusted over the last 6 years. It now reflects our family, what we like to eat at the moment and what is available in our grocery store. But I'm sure you could easily adapt it to your own needs.
If you are reluctant, here's why I think you should still give it a try:
it saves time, allowing you to spend more time cooking
it saves money if you're able to stick to the shopping list
you'll probably end up eating more healthy food and less fast food
you may end up eating more varied food
I know there are many grocery list apps available, but in my experience nothing beats paper for this purpose. The superb "resolution" of paper gives you a full overview of the weekly menu and the shopping list on a single, small, A5 sized piece of paper. It can be folded and put in a pocket. There's still plenty of space for notes, and if you need more space you can use the back as well!
The grocery lists can easily be archived. I usually print 10 or 20 copies, and when I'm out, I quickly review the last couple of weeks to see if there are items that should be added or deleted from the generic list. You can imagine how a number of items entered the list when the kids where small, and have now again left the list. The one thing that is certain is that no two persons will end up with identical lists. The list will always be a work-in-progress.
For the menu part I often simply include a page number if the recipe is from a cook book, and since I remember which book the recipe is from, a page number will normally suffice. The nice thing with including the menu on the grocery list is that it serves as an additional reminder when I'm in the grocery store. A quick glance at the menu may often remind me of those last items I forgot.
Some may prefer a more inspirational approach to their daily cooking, based on what is fresh and available in the grocery store and what they're craving for that day. If you have the time, that's great. But with a full-time day job and family obligations, I don't have time for that. In Norwegian this is known as "tidsklemma". There's no proper English translation of that term, but A frog in the fjord has a nice explanation of it! Nonetheless, an important rule if you shop weekly is to sometimes deviate from your weekly dinner plan! If we're spontaneously invited over to friends – of course we go, even though we technically speaking had plans for dinner already. Other days, when we're totally exhausted, we might end up with a thai take away. But on large, planning dinners one week ahead makes us cook more than we otherwise would have had time to.
If you want to give it a try, you can download my latest list as a Word document in Norwegian A4 size or English A4 or legal size. Give it a try, and let me know what you think in the comments!