The book On Food and Cooking – The Science and Lore of the Kitchen by Harold McGee was my first encounter with molecular gastronomy and it is also my favorite. Written both for the scientist and the non-scientist, the book provides a wealth of information about about different food ingredients, how to prepare them and the science behind. Especially the science part provides important clues to the hows, whys and wherefores of food preparation. As the title suggests, McGee also includes lots of historical facts and unusual information. McGee manages to popularize results from food science journals and makes them accessible for every cook. The books is organized into 15 chapters covering different types of ingredients such as milk and dairy products, eggs, meat, fish, vegetables, fruit, herbs, spices, seeds, cereals, sauces, sugar, chocolate, beverages and cooking methods. The 2nd edition appearing in 2004, 20 years after the 1st edition is almost completely rewritten, the text is expanded by two-thirds and includes 100 new illustrations and nearly 900 pages. The books is a handy reference in the kitchen and in my opinion, indispensable!

If you're after a shorter text on the science of different ingredients and cooking techniques, I'd recommend Peter Barham's The Science of Cooking. On less than 250 pages Barham takes you through the science needed to understand the basic principles of cooking. Given the size it's far less comprehensive than McGee's book, but then Barham also largely omits the kitchen lore. There are however a couple of recipes in each chapter to illustrate the topics discussed. The book has some very useful Problem-Cause-Solution tables (similar to the Troubleshooting guides found in Cookwise).

If you're after a really short introduction to what popular food chemistry is all about, I would recommend The Inquisitive Cook by Anne Gardiner and Sue Wilson. In less than 150 pages the book gives you a quick overview of important ingredients ranging from roots and fruits to eggs and meat. The book is richely illustrated and very accesible. In the introduction a hamburger is presented with a number of questions to increase your appetite for the book. If you wonder why lettuce isn't always crisp, what role egg yolks play in mayonnaise or why meat browns when you cook it, then this is the book you're looking for.
Kitchen Mysteries by Hervé This has more than 40 chapters covering cooking techniques and the different components of a meal. The chapters typically start with a simple observation in the kitchen and go on to describe the science behind. It's all done in an easy to read, narrative form which should be very accesible to non scientists. What also makes the book remarkable is the fact that Hervé This' enthusiasm shines through the text. However, if you are after a handy reference book with to-the-point facts, you would be better off with the book by Harold McGee (see above).
Molecular gastronomy: Exploring the Science of Flavor is an English translation of Herve This' first book Casseroles et éprouvettes. As outlined in the History page, Herve This is one of the founders of what has become known as molecular gastronomy and he was the first person to hold a PhD in the field. The book shows how This uses results from scientific research and applies them in the kitchen. The 101 chapters are grouped into four main categories: 1) Secrets of the Kitchen with practical tips on food preparation, 2) The Physiology of Flavor with an emphasis on taste and aroma, 3) Investigation and Models with closer examination of different foods and 4) A Cuisine for Tomorrow which outlines new and innovative methods and recipes. The book goes into greater detail in the science than does McGee's book, but it also shows to an even greater extent the way of thinking within molecular gastronomy. It is not as suitable as a reference, but essential reading for everyone seriously interested in how a molecular gastronomer works and thinks.
Once I received Heston Blumenthal's The Big Fat Duck Cookbook I immediately knew that this would be one of my favorites. The book is divided into three parts: 1) History, 2) Recipes and 3) Science. Perhaps the most unusual part for a cook book is the science part. There are number of essays written by noted scientists. The style of them gives us a clue to how Heston works, because many of the essays start with a question or an idea from Heston to which the essay is a response. Part 1 gives many details on how The Fat Duck came into being and part 2 – well – recipes doesn't do this part justice. There are magnificent photographs, beautiful artwork, the philosophy behind each dish is explained and then there of course is also a recipe. All in all it's an extraordinary book, not only because it weighs 5 kg! And it really makes you want to go to Bray immediately for dinner. This is a must have!

It was only in April 2007 that I first got to take a closer look at an El Bulli cook book. It was love at first sight! I now own the 2003-2004 edition in English, but there is a whole range available in English now: 1994-1997, 1998-2002, 2003-2004 (1983-1993 is only available in Spanish, but hey – there's still the pictures!). The pictures, the presentation and the whole layout is stunning. Despite the fact that Ferran Adrià now rejects the term molecular gastronomy I wouldn't hesitate recommending these books because the techniques used are only a platform for Adrià's creativity. And there's no doubt that Adrià has paved the way for a scientific approch to cooking and to documenting it afterwards! I really admire the fact that he includes pictures showing techniques and how things are done (although some more detail perhaps could be desireable). Not all chefs are as keen to share what they are doing as Adrià. Don't expect any scientific explanations though!
I have found Food chemistry by Belitz, Grosch and Scieberle to be an indispensable source of information. Among food science professionals it is a well known and frequently used reference book which is very well organized. With 472 figures, around 1100 chemical formulas and 620 tables the book provides a comprehensive, yet very concise source of information on all aspects of food chemistry. It certainly is a technical book, but I believe everyone with an above average interest in food would find interesting bits of information here. And for every cook with some science background it is a true treasure trove.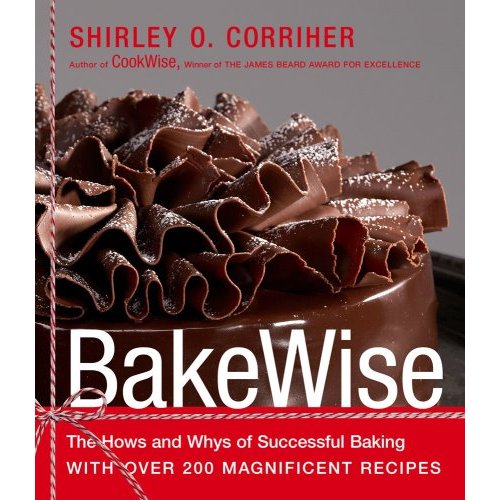 Most books on molecular gastronomy and popular food science don't have many recipes, but there is one honourable exception: CookWise by Shirley Corriher. This book combines a number of recipes (> 230) with cooking know-how and scientific explanations. This book actually explains why the recipe tells you to do so and so! What I also like about this book are the troubleshooting guides. When a recipe doesn't work, Corriher explains what to do about it. In 2008 CookWise was complemented by BakeWise which obviously deals with baking. Just like CookWise it has nice tables on what-went-wrong and what-to-do-about-it. The two books are in fact problem solving manuals for the kitchen.
Jeffrey Steingarten, originally a lawyer, was appointed as a food writer for Vogue in 1989. Selected essays have been published in the books The Man Who Ate Everything and It Must Have Been Something I Ate. Although Steingarten does not write specifically about molecular gastronomy (he does mention it in some chapters), his way of investigating food is very thorough and almost scientific. With an open mind and a great sense of humor, he goes to extreme lengths in finding the best foods from many parts of the worlds. Very entertaining reading!