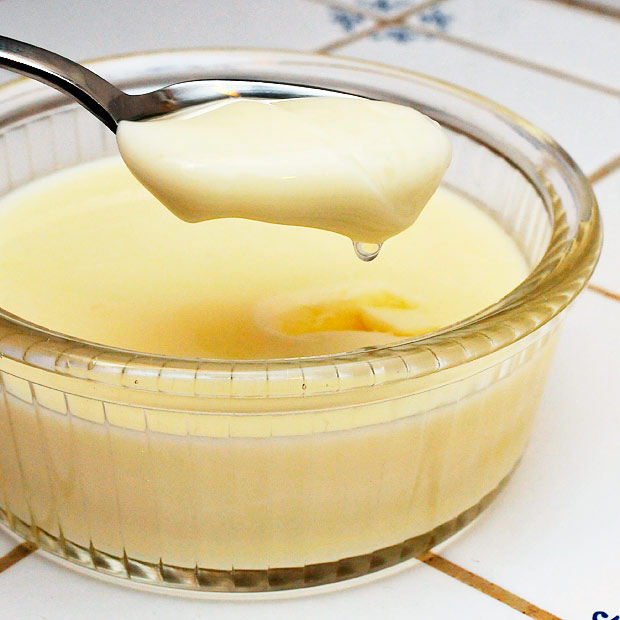 With only 3 ingredients you can make a tasty gel within minutes. The gel is very fragile and easily "looses" liquid, in this case whey, which is seen as a clear drop under the spoon. This loss of liquid from a gel is known as syneresis.
Some weeks ago, while doing research for Texture on gel formation in foods where no "external" hydrocolloid is added, I came across ginger milk curd (in Chinese: 姜汁炖奶/薑汁撞奶). With only three ingredients – milk, ginger and sugar – it immediately caught my attention. I found a recipe and my first attempt was successful. I was amazed! With three seemingly simple ingredients I was able to form a tender, fragile gel within minutes. I loved the strong ginger taste with a touch of sweetness. After my first success I had several failed attempts, so I looked up some more recipes. What puzzled me was that, as I dug up more recipes, the different instructions were specific, but also contradictive. I couldn't let go at this point, so I continued reading – also scientific papers. Now that I have a fairly good understanding of the science behind ginger milk curd it is clear that the many recipes I had found were full of kitchen myths.
Here are some examples (both right and wrong!) to illustrate the spectrum of advice given:
Ginger: use old ginger, the gelling comes from the white sediment in ginger juice, by some referred to as "starch", peel ginger with a spoon as the "starch" is right below the skin
Milk: let the milk boil; do not let the milk boil; heat milk to anywhere between 60 and 95 °C; cool milk/cool milk a little/do not cool milk; pour back and forth between two containers 10 times; use full cream milk; do not use UHT milk; do not use pasteurized; pasteurized milk is OK; do not used homogenized milk; use "micro filtered" (?); etc.; use milk with higher protein content (or try soy milk)
Recommended milk:ginger ratio varies from 8:1 to 25:1 (i.e. for 250 mL of milk use anywhere from to 10-30 mL of ginger juice)
Pour milk in one go into ginger juice (hence the chinese name "ginger hits milk",) , do not stir. If milk is poured too slowly or from low height the results is a very runny gel.
For a firmer gel omit sugar
Add a few drops of vinegar to help the milk curdle
… and so on
It's fascinating how a recipe calling for only 3 ingredients can lead to so many awkward instructions. No wonder then that I found reports from people who only succeed on 50% of their attempts, have succeeded on their 9th attempt or have given up and added egg whites (claiming the preparation requires "a lot of skills and a pinch of luck"). Kitchen myths arise when people randomly fail and succeed with a recipe. Depending on the outcome they try to attribute the result to something they did different from last time. There is a chance that this was a relevant change, but more often than not it has nothing to do with the outcome. With the wrong conclusion drawn the kitchen myth is a reality.
If you read on you'll find a recipe for a fool-proof ginger milk curd as well as a scientific explanation of how the milk can set so rapidly upon mixing with the ginger juice.

Microplane the ginger, squeeze out the juice and pour the milk from a height so that it is instantly mixed with the ginger juice. Leave to set.
Based on what I've read so far, this is my "best bet" for a ginger milk curd that will not fail. The most important piece of equipment is a digital kitchen thermometer. If you don't have one – get one!
Fool proof ginger milk curd
250 mL skimmed milk
18 g fresh *) ginger juice **)
20 g sugar

Combine milk and sugar in a pan and heat carefully to 65 °C. Peel and microplane ginger, and squeeze out the juice. Place juice in a bowl and pour milk into the ginger juice from a height to allow sufficient mixing. Do NOT stir as this will interfere with the gel formation. Leave to set at room temperature. After 5-10 min a gel has formed. The curd may be served immediately or kept in the fridge.

In this recipe I used a milk:ginger juice ratio of 14:1. You can certainly use more ginger juice, but the taste of ginger may then become too powerful. You can also reduce the amount of ginger juice, but this I havent' tested yet.

*) See comment below regarding the stability of the enzymes. Ginger juice should not be made in advance due to a short half-life in room temperature.
**) 18 g ginger juice = ca. 31 g peeled ginger = ca. 43 g raw ginger.

With only 3 ingredients you can make a tasty gel within minutes that can carry the weight of a spoon! Notice how elastic the gel is. After the picture was taken the spoon could be removed, leaving the gel intact.
Mechanism of gelling
Ginger milk curd belongs to a large group of foods where enzymes are used to curdle milk (including cheese of course). Traditionally one would use rennet to prepare such a curd. Rennet is found in the stomach of young mammals and is essential as they digest their mothers' milk. The active enzyme in rennet is chymosin, also known as rennin. This is a proteolytic enzyme, also known as a protease. These enzymes are capable of breaking proteins into smaller fragments.
Ginger enters the scene because ginger also contains proteolytic enzymes. The ginger proteases (GP, sometimes called zingipain, EC 3.4.22.67) are very sensitive to temperature. At temperature above 70 °C they are rapidly denatured (=irreversibly destroyed). This explains why so many people fail when trying to make ginger milk curd. The milk clotting activity (MCA) of GP peaks around 63 °C and falls off rapidly above 65 °C and below 60 °C (see figure below). This means one is left with a relatively narrow temperature window of 60-65 °C. GP does show proteolytic activity (PA) outside this window, but this PA is more of a non-specific kind. MCA on the other hand is related to a specific hydrolysis of κ-casein (more on casein in a second, the greek letter κ is pronounced "kappa"). By now you may wonder if it's possible to make cheese with ginger – and the answer is yes. Scientists have studied several plant extracts and found that ginger, kiwi and melon all contain proteases with a relatively high MCA/PA ratio (albeit not as high as that of chymosin found in rennet). The temperatures for maximum milk clotting activity of kiwi and melon proteases are 40 °C and 70 °C respectively.
Enzymes are catalysts, the tireless workers responsible for building the gel. But it is casein, a group of proteins found in milk, which is the actual building block of the gel. The casein proteins group together to form large balls known as micelles which are held together by calcium ions. The outside of the micelles is covered with κ-casein which is composed of a water soluble part (an acidic glycopeptide) and another part which is much less soluble in water (para-κ-casein). The water soluble part migrates to the surface and leaves the micelles covered by a "hairy" layer. This layer both keeps the micelles dissolved in water, and prevents the micelles from coming so close to one another that they would coalesce and aggregate.
It is thanks to this "hairy" layer that milk is stable (i.e. does not spontaneously form a gel), and all is well until we add the above mentioned proteases to milk. What chymosin, GP and other proteases do is to cleave of the water soluble part of κ-casein, leaving para-κ-casein behind. Suddenly the micelles can collide, and the calcium present in milk aids in the formation of aggregates. These aggregates of "shaved" micelles make up the actual gel. It all happens within a couple of minutes. The resulting gel is very fragile and easily looses water, a process known as syneresis (see the top picture in the post).
I mentioned above the very narrow temperature window for GP, but one remaining question was whether heating milk to a higher temperature (before cooling to the same temperature window) would be beneficial. It turns out that if milk is heated above 65 °C, the strenght of the resulting gel is reduced. The reason is that the heat causes compounds in the milk (lactoglobulins) to precipitate onto the κ-casein. This interferes with the gel formation. The same is true for milk fat, so skimmed milk is the choice for a stronger gel. Since calcium plays a role in the aggregation of the "shaved" micelles, a higher calcium concentration will also result in a stronger gel.
The ginger juice also deserves a couple of extra words. In freshly squeezed ginger juice the GP has a half-life of 20 min at 30 °C, so in a warm kitchen, half of your enzyme activity is lost 20 min after you have grated and squeezed your ginger. If you leave it another 20 min you're only left with 25% of the original activity. This means that the ginger juice can't be prepared in advance or stored unless you use a little trick. The reason for the instability is that ginger also contains another enzyme, polyphenol oxidase (or PPO for short) – the same enzyme that is responsible for the browning of apples (an example of enzymatic browning, as opposed to the Maillard reaction which is an example of non-enzymatic browning). Once the ginger has been grated, PPO attacks phenolic groups yielding ortho-quinones. These in turn can react with the GP enzymes to inactivate them. A well-known trick to prevent the browning of apples is to use ascorbic acid (more commonly known as vitamin C). Ascorbic acid blocks the action of PPO, which in turn prevents the inactivation of the GP enzymes. And the same trick also works for ginger juice. If you need to make ginger juice in advance, just add a pinch of vitamin C (0.2% to be precise).
Ideas for further experimentation
Even though I've arrived at a recipe which seems to work fine, there are several claims that remain to be tested – feel free to join in on the experimentation (or share it as an idea for a school science project)!
old vs. young ginger: I believe the ginger I can buy in Norway is not particularly young, so this is not something I've actually tested, but my guess is that this is far less important than temperature
milk:ginger ratio – what is the minimum amount of ginger juice required to make the gel set?
pour low vs. high: I believe the point of the "high pour" is to avoid any extra mixing/disturbing of the gel
mix within the first couple of seconds: not necessary if one does a "high pour", but mixing in the first couple of seconds should be OK, however it's not been tested yet
mix cold, then heat: not tested, but should work
lemon juice contains vitamin C, so perhaps some drops of lemon juice could help stabilize the ginger juice?
firmer gel with less sugar: not tested, but tastewise this is not relevant – and I did get a nice gel with sugar, so it's hard to motivate this
addition of vinegar: not tested
add ginger juice to when the milk hits 60-65 °C: this works, but is only practical if you want to make the gel in the pan used to heat the milk, as you will probably (i.e. I have not actually tested this) not have time to pour the combined milk and ginger into a second dish; perhaps this would be relevant if making ginger curd in a microwave?
References
Mazorra-Manzano, M. A.; Perea-Gutiérrez, T. C.; Lugo-Sánchez, M. E.; Ramirez-Suarez, J. C.; Torres-Llanez, M.; González-Córdova, A. F.; Vallejo-Cordoba, B. "Comparison of the milk-clotting properties of three plant extracts" Food Chem. 2013, 141, 1902-1907. DOI: 10.1016/j.foodchem.2013.05.042
Su, H.-P.; Huang, M.-J.; Wang, H.-T. "Characterization of ginger proteases and their potential as a rennin replacement" J. Sci. Food Agric. 2009, 89, 1178-1185. DOI: 10.1002/jsfa.3572 [free pdf here]
Further reading
Chen, Y.-Y. "Factors Affecting Protease Activity of Ginger and Its Application in Milk Clotting Products", 2004, Thesis (Language: Chinese).