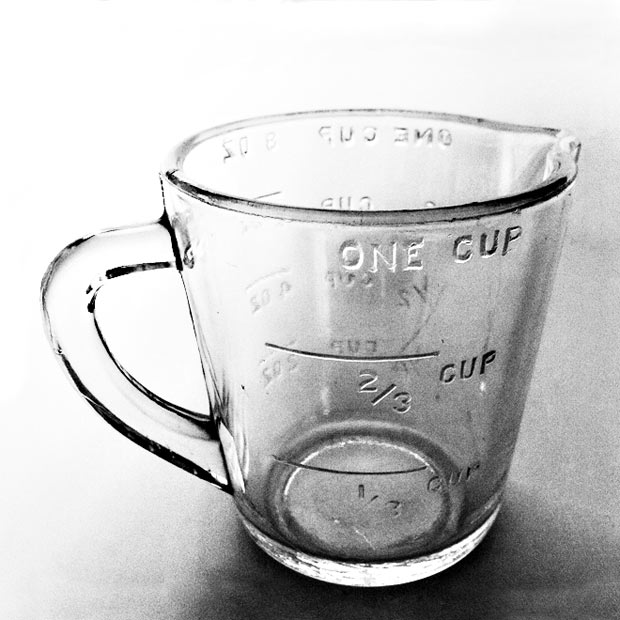 Vintage Glasbake Measuring Cup by Gerrilynn Nunley
Despite the fact that the U.S. Metric Association have advocated metrication for nearly 100 years, many cookbooks still use US customary weights and volume measures. When following a recipe calling for teaspoons, tablespoons, fluid ounces, cups, pints, quarts or even gallons, I've often found myself using conversion websites such as Convert-me, picking ingredients from a list and entering the amount and unit. This works OK for single ingredients, but is less practical when converting a complete recipe. I therefore made a calculator to convert volumetric units to grams based on densities of a range of common ingredients. It has greatly simplified the task for me, and perhaps you'll find it useful as well?
Download calculator
volume-weight-conversion-v2.xlsm (Excel 2007 file, 82 KB) – UPDATED!
(Please note that the autocomplete function requires that you enable the macro. If you experienced problems with the xlsm file being downloaded in zip format, please try again now. A small server update has been implemented to fix the problem.)
Features
Includes densities of about 200 275 ingredients.
Easy entering of data with autocomplete function and drop-down list.
Dynamic rounding of results to yield more realistic recipes ("120 g" water makes more sense than "118.29 g" which would be a more exact, but less practical conversion of 1/2 cup).
Optional scaling of the recipe
Allowed units
US volume units: t, T, floz, c, pt, qt, gal
US weight units: oz, lb
Metric volume units: ml, dl, l
Metric weight units: g, kg
For eggs, egg whites, egg yolks and a stick of butter the unit field is left blank. Average weights of Large and Medium sized eggs, whites and yolks are included.
Navigation
Use tab or left/right arrow to navigate in/out of ingredients
Autocomplete feature in ingredient field requires macros to be enabled
Use up/down arrows to navigate up/down in drop down list of ingredients
References
Densities mainly taken from rec.food.cooking's FAQ and conversion file (note that this is the same source as Convert me is built upon) and USDA National Nutrient Database.
Some additional data from http://www.aqua-calc.com (which apparently is also based on the USDA database)
Some densities added/corrected by Martin Lersch (in particular flour densities in the rec.food.cooking seem to be off).