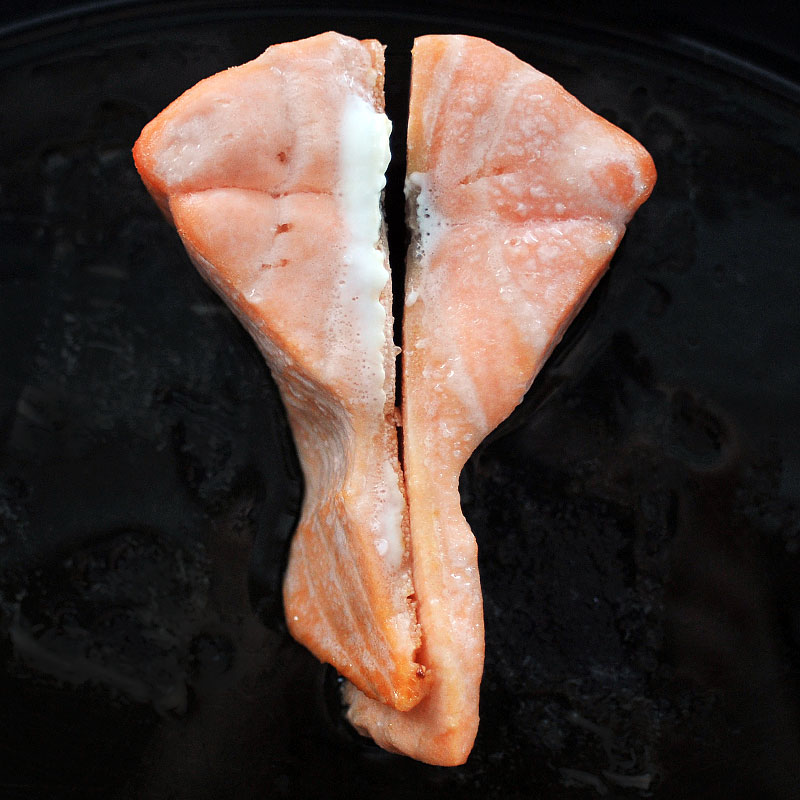 Avoid the white exudate (left) by brining salmon (right) prior to cooking
Salmon is a wonderful fish that can be prepared at nearly any temperature between raw (as in sushi) and fully cooked. In between these extremes lies a range of temperatures that with the advent of sous vide have become accessible for more and more (try for instance salmon confit: 18 min @ 42°C). Beyond temperature salmon can be combined with salt, sugar, acids, liquorice or even smoke. And the more adventurous even leave it to ferment for a couple of days to yield a gravlax (which used to be fermented, but today normally is only cured) or – for the strong hearted – rakfisk (which is still produced by fermentation). But exotic preparations aside. A problem encountered when heating salmon is the liquid that oozes out as the muscle is heated, and solidifies once it hits a hot surface. I say problem, but should stress that it is perfectly fine to eat the white exudate – it looks like egg white and is composed mainly of protein. But since the exudate is not particularly beautiful, for a nice plated dish one would preferably choose a way of preparing salmon that eliminates the formation of exudate.

Immersing salmon for 10 min in 10% solution of salt in water prior to cooking does wonders
The solution to this problem is quite simple: Brine the salmon in a 10% brine 10 min before cooking it. The brine is made by dissolving 50 g salt in 450 g water. A possible explanation I've found for why this works is that the protein myosin, which is present in muscles and the culprit of the white exudate, is partly dissolved in the brine. Upon heating a gel is formed, effectively trapping any further myosin inside the meat so it cannot ooze out, even when the meat is heated. I learnt this from sous vide pioneer Bruno Goussalt who told he had learnt it from a Norwegian chef when he lived and worked for 3 years in Stavanger. Bruno could not remember the name of the Norwegian chef any more, but perhaps some of my readers can help me? Who was the first to discover this effect of brining on salmon?

Salmon (left unbrinded, right brined) before and after beeing baked. Red arrows show where exudate is formed and gels as it hits the hot surface of the baking dish