There were 7 entries in total for TGRWT #22 where the challenge was to cook with raisin and one or more ingredients from the flavor pairing tree of raisin from foodpairing.com shown above. Here's the round-up with pictures and comments. Click the links to read the full blog posts and recipes. Enjoy!


Almond-raisin cubes
submitted by Peter Hertzmann at Amuse-bouches, intermí¨des et mignardises
Comment: "… I decided to leave the cubes plain and as formed. They would be scrumptious dipped in dark chocolate, bit they are fine without it. Plus, I like being able to tell my guests that this new confection only has two ingredients. They can't believe it."
Kelley's Cucumber Ice Cream Dream
submitted by Kelley Caspari, guest posted at Eating Possibly
Comment: "… I found that the Cucumber Ice Cream Corrupter was a bit to sweet for my purposes and taste, so I modified the recipe, both for sweetness and in reducing the amount of base for the technique I planned to use. When I added raisins, I found that the ice cream melted in my mouth too quickly, leaving me chewing and chewing and chewing the raisins long after the cucumber flavor had disappeared. Even mincing them didn't help this problem. I settled on throwing the raisins into a food processor with honey and lemon juice and pureeing the heck out of it."
Raisin leather cannoli with stracciatella of buffalo mozzarella, anchovies and curly endive puree
submitted by Isaiah and Clara at Ladri di Ricette (Italian, or English translation)
Comment: "… the result after calibrating the ingredients in contrast, has been amazing. […] The sweetness of the raisin is balanced by the savory of the anchovies. The curly endive purée gives just an hint of bitterness Which scales down the sweetness of the raisin and the stracciatella of buffalo mozzarella. The cream in the stracciatella really encapsulated all the flavors and gives them a good roundness. Will we cook it again?: Yes It is a dish That gives it's best as an appetizer rather than a main course dish. We would like to give a smoke accent to the leather raisin (by using a mixture of water and peated whyskey while rehydrating raisins) but it was too expensive to try …"
Fried bacon with raisins, toasted walnuts and apple butter
submitted by Larry P at Tri-2-cook
Verdict: In my opinion, a tasty and well balanced dish. Perfect? Of course not. But I was very happy with the result for a first-round untested idea. It was no great stretch to imagine raisin, bacon, walnut and apple tasting good together so I tried to put a little imagination into how I used those ingredients to maintain some of the spirit of TGRWTs past where the pairings were not always easy to picture working well together. Would I cook it again? Absolutely. A future rendition would probably include a little more heat, the jalapeno I used was a bit on the tame side, and more thought put into the plating but I was pretty happy with the result overall.
Foie Gras Terrine with Golden Raisin Puree
Submitted by Daniel Campagna at Post Modern Cuisine
Verdict: … the foie gras went well with "sweet and tart" of the puree, as well as the "sour" of the red onion marmalade. The crisp cromesquis add texture to the dish and a lite summer salad basket added substance. I would definitely serve again … with a few refinements.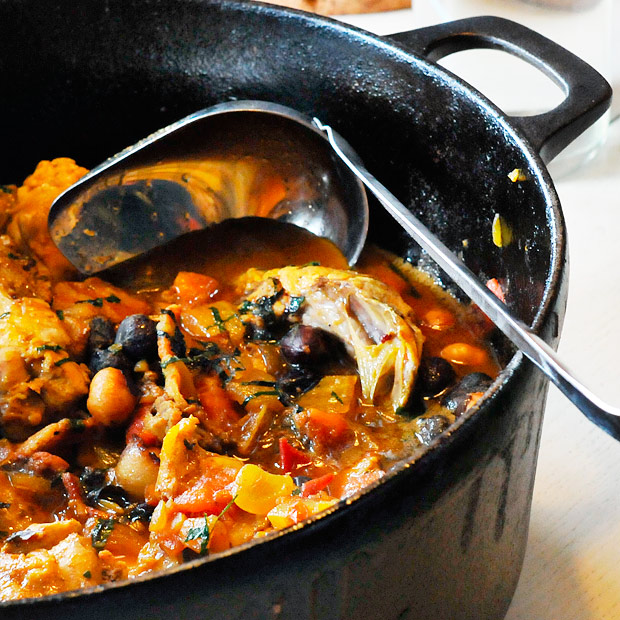 Chicken stew
submitted by Martin Lersch at Khymos
Verdict: The biggest was the overlap between saffron and peppermint! The roasted hazelnuts stood out well, partly because of their slightly burnt skin and because they were intentionally left whole. The raisins added a richness and sweetness to the dish, but were not very distinct, so I could easily have doubled the amount, perhaps in combination with a little more salt. All in all it turned out as a nice dinner stew. Perhaps not yet a gastronomic "high", but for a Monday dinner it was certainly well above average, and with further room for improvement. Will I cook it again? Yes, definitely! I would then up the amount of raisins, tune saffron somewhat down and possibly add more peppermint for a more distinct dish.
– – –
Recipe submitted by Wendy Alfaro:
Raisin marmalade & cucumber sushi
Raisin marmalade
1 cup of raisins
1/2 cup of water
1/2 cup balsamic vinegar
1/2 cup hibiscus flowers (to prepare 1 cup of tea) or hibiscus tea directly
1/4 teaspoon cinnamon
Boil until the raisins absorb most of the liquid. Add the cinnamon after boiling.
Cucumber-peanut layer
1 small cucumber
1 tablespoon of peanuts
Peel the cucumber, add to a bowl and combine with 1 tablespoon of crushed peanuts.
Arrangement of recipe: Line nori sheet and place half a cup of basmatti/wild rice (previously cooked with extra water+1 tablespoon of apple cider vinegar). Then
carefully spread evenly 1/4 tablespoon of mustard, then layer the cucumber-peanut mixture and finally add 1 tablespoon of the raisin marmalade. Roll the sheet. Serve on contrasting color plate. Garnish with mustard seeds.