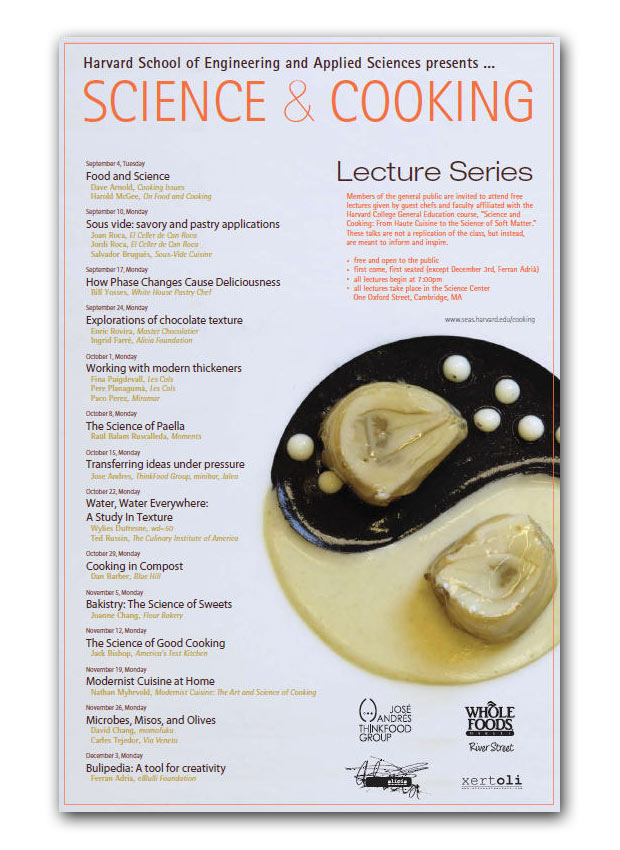 The popular Science & Cooking lectures at Harvard are back again (in fact they started September 4th). Classes are filmed and freely available via Youtube and iTunes. Like in previous years the public lecture series is given alongside the course "Science and Cooking: From Haute Cuisine to the Science of Soft Matter" which is reserved for currently enrolled Harvard students. The course is a joint effort of The Harvard School of Engineering and Applied Sciences ("SEAS") and the Alí­cia Foundation. The line-up for 2012 is quite impressive:

Food and science, Dave Arnold and Harold McGee (see video at end of post)
Sous vide: savory and pastry applications, Joan Roca, Jordi Roca, Salvador Brugués
How phase changes cause deliciousness, Bill Yosses
Explorations of chocolate texture, Enric Rovira and Ingrid Farré
Working with modern thickeners, Fina Puigdevall, Pere Planagumí , Paco Perez
The science of Paella, Raül Balam Ruscelleda
Transferring ideas under pressure, José Andrés
Water, water everywhere: A study in texture, Wylie Dufresne, Ted Russin
Cooking in compost, Dan Barber
Bakistry: The science of sweets, Joanne Chang
The science of good cooking, Jack Bishop
Modernist cuisine at home, Nathan Myhrvold
Microbes, misos and olives, David Chang, Carles Tejedor
Bulipedia: A tool for creativity, Ferran Adrií
Best of all, you can enjoy all the presentations from 2010 and 2011 free of charge via Youtube and iTunes. And the September 4th presentation by Dave Arnold and Harold McGee is already available online:
If you plan to attend the lectures live, visit the Science & Cooking webpage for details on dates, tickets and venues.