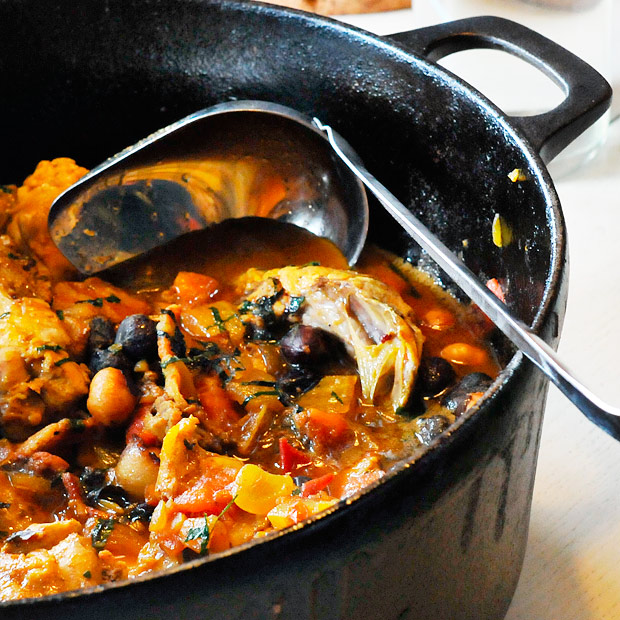 For TGRWT #22 I started by looking at the foodpairing tree of raisin (see below). I decided to include roasted hazelnuts, bacon and cooked chicken. With fresh peppermint available in the garden I considered that as a possibility too. And perhaps with a Moroccan tajine in the back of my mind I figured I would like to add saffron, so I included that as well. Interestingly saffron appeared in the foodpairing tree of peppermint. To turn all of this into a stew I decided to include onion and tomato as well. It turned out quite tasty, and there was even an aromatic surprise, so please read on.


Starting with raisin I ended up including chicken, bacon (visible if you click the "meat" sector), peppermint and roasted hazelnuts from this foodpairing tree. It turned out that the saffron I wanted to include is linked to peppermint (possibly only visible in the pro version).
Chicken stew
1 T butter
2 large onions
200 g bacon
0.5 g saffron
1 chicken (~1300 g), cut in 6-8 pieces
50 g raisins
100 g hazelnuts (roasted 10 min @ 200 °C)
250 g water
3 tomatoes
5 g salt
4 g peppermint leaves, thinly sliced
Melt butter, add onions and bacon slowly while stirring over medium heat. When onions have turned glassy and are slightly browned, add the remaining ingredients (except peppermint) and let simmer for at least 30 min. Before serving, toss in the peppermint and leave to simmer for another minute or two. Serve with rice.
Verdict: All in all the dish was dominated by saffron (not surprising, but it continues to amaze me how powerful those 500 milligrams of saffron are). The biggest surprise however was the overlap between saffron and peppermint. Asked up front I would have said that "no, they have nothing in common, and probably don't work well together". And while the stew was simmering, I was even a bit reluctant to add peppermint in the end, so I took a spoon with some stew and sprinkled peppermint on top just to test the combination before I potentially would ruin the whole stew. Wow! That combination really took me by surprise. Where saffron – which is the aroma first noticed – ends, peppermint takes over. The two aromas complemented each other well. And as a quick google search reveals, I'm certainly not the first to combine the two… The roasted hazelnuts stood out well, partly because of their slightly burnt skin and because they were intentionally left whole (to avoid the possible confusion pieces of crunchy nuts impart on dishes which may also contain fragments of chicken bones). The raisins added a richness and sweetness to the dish, but were not very distinct, so I could easily have doubled the amount, perhaps in combination with a little more salt. All in all it turned out as a nice dinner stew. Perhaps not yet a gastronomic "high", but for a Monday dinner it was certainly well above average, and with further room for improvement.
Will I cook it again? Yes, definitely! I would then up the amount of raisins, tune saffron somewhat down and possibly add more peppermint for a more distinct dish.