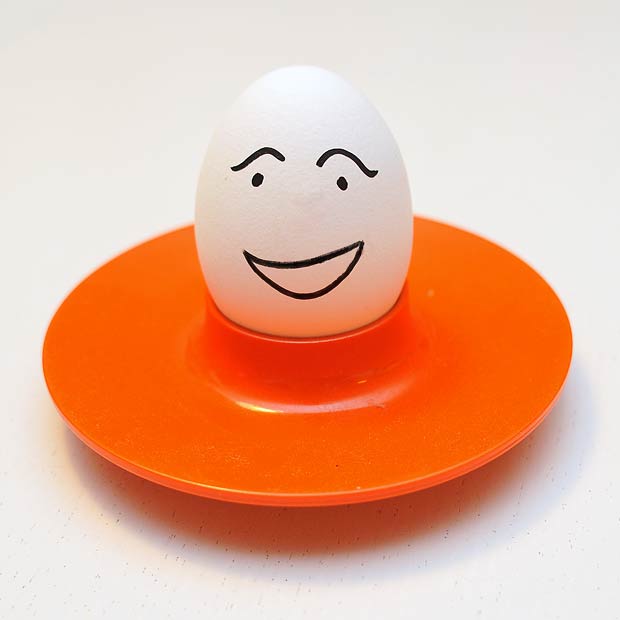 Maybe I have a hangup on soft boiled eggs, but I'm deeply fascinated by how something simple as an egg can be transformed into such a wide range of textures. I'm talking about pure eggs – no other ingredients added. Playing around with temperature and time can result in some very interesting yolk textures – yolks that are neither soft nor hard, but somewhere inbetween. Two examples from the blogosphere are Chad Galliano's 90 min @ 63.8 °C egg yolk sheets and David Barzelay's 17 min @ 70.0 °C egg yolk cylinders (both bloggers giving credit to Ideas in food and Wylie Dufresne respectively).
In 2009 I wrote about my journey towards the perfect soft boiled eggs. Equipped with a formula I knew what I wanted, but it wasn't so easy after all. Since then I've tried to model experimental data from Douglas Baldwin as well as data from my own measurements of egg yolk tempereatures when cooked sous vide (pictures of how I did this at the end of this blog post). I never got around to blog about the results, and now there's no need for it anymore: The egg yolk problem has been solved! And the question that remains is: How we can utilize this in the kitchen?
The break through came this year with a paper by César Vega and Ruben Mercadé-Prieto entiteld Culinary Biophysics: on the Nature of the 6X°C Egg [1]. In my opinion it's a brilliant example of molecular gastronomy: the results are practical enough for chefs and technical enough for scientists. This paper holds the key to unlock the true potential of egg yolk texture, and with it every chef can reproducibly prepare yolks with textures in the whole range between soft and hard. If you think I sound a bit exalted, you're absolutely right.
Eggs cooked at low temperature have been all around the internet for the last couple of years, but a general feature of all these posts has been a focus on temperature. This has been the generally accepted truth. Even Hervé This in an interview with Discover magazine claimed that "Cooking eggs is really a question of temperature, not time". But the present paper counters this. It's main conclusion is that the texture of the egg yolk is a result of the time-temperature combination used, it's thermal history if you like. If you're interested in the details of the paper I suggest you jump directly to the pdf (I could download it for free some days ago, so give it a try), but if you're only interested in the results, read on! A practical way to measure egg yolk texture is by using a rheometer. It's a fancy piece of equipment that measures viscosity (and for those of you who are technically inclined – it measures viscosity as a function of shear rate). And what César and Ruben have done is to prepare a graph that shows the viscosity of a large number of temperature and time combinations. It's a so-called iso-viscosity plot, meaning that once you have decided which viscosity you want the graph will show you all the temperature-time combinations that will give the desired result.

The figure shows how an egg yolk with a texture resembling one of the reference foods can be prepared by chosing any temperature-time combination along the respective plotted lines. (The figure is used with kind permission from Springer Science+Business Media: César Vega and Ruben Mercadé-Prieto in Food Biophysics 2011, 6:152-159, Culinary Biophysics: on the Nature of the 6X °C Egg, figure 8, page 158. The legend overlay has been added by me for clarity.)
For chefs, and even for chemists not working with rheology, it's difficult to relate to numerical values of viscosity. To get around this the authors did a clever thing by measuring the viscosity of a range of semi-solid foods that may function as reference points: sweetened condensed milk, mayonnaise, honey, cookie icing and Marmite. You can use the iso-viscosity plot shown above to find different time-temperature combinations that give the same yolk viscosity. To use the plot, first decide which texture you want the egg yolk to have. Let's say you're in for a honey like texture (filled triangles). Pick a temperature, draw a vertical line until it crosses the line plotted through the triangles and then a horizontal line from there to the time axis. Repeating the exercise for different temperatures will give the different time-temperature combinations that all give a honey like yolk texture; in this case 310 min at 60 °C, 200 min at 61 °C, 125 min at 62 °C, 75 min at 63 °C, 55 min at 64 °C, 45 at 65 °C, 40 min at 66 °C, 26 min at 67 °C and finally 25 min at 68 °C will all do the trick. With a temperature controlled water bath one can chose whatever combination one likes, but if using a large pot of water and manually turning the heat on/off it's advisable to cook the egg yolk in the lower temperature range. Also, the authors state that it requires a bit of practice to obtain different textures at temperatures above 66 °C.
The paper only deals with egg yolks. At the given time-temperature combinations the white will remain more or less runny. If only the yolk is to be used this doesn't matter. But if serving the whole egg a simple way to set the egg white is to immerse the egg in boiling water for 2-3 minutes. Alternatively for a little longer at 85 or 90 °C. A comment made by Olly Rouse to my previous post on eggs suggests 8 min at 90 °C followed by cooling at 55 °C is perfect to set the white. However, if the eggs are to be "cooled" at 6X °C maybe 6-7 min is enough. What complicates matters even more is that at 6X °C convection inside the still runny egg white contributes significantly to the heat transfer, but I assume that this is negligible in combination with the longer cooking times in the lower 6X °C range.
Now that all possible egg yolk textures are available the question is: How we can utilize this in the kitchen? Apart from preparing soft boiled eggs, are there any applications in cooking? I'm sure there are many good ideas out there just waiting to be realized. If you blog or twitter about your ideas for utilizing precisely cooked egg yolks I suggest that you tag your blogposts with 6Xyolk and your tweets with #6Xyolk. Then everyone can easily follow up on the progress.

From my own experiments with measuring the core temperature of eggs cooked sous vide: The pictures show how I cut a thin slice from a plastic wine cork, pierced it with a philips screw driver, glued it to an egg, carefully pierced the egg shell with the same screw driver and finally introduced a thermocouple into the core of the egg yolk. There was enough friction between the thermocouple and the wine cork to allow the egg to be suspended by the thermocouple in the water bath. Temperature was logged using myPClab from Novus. Prior to the measurement the egg with the inserted thermocouple were left for several hours in the fridge for temperature equillibration.
[1] Vega, C.; Mercadé-Prieto, R. Food Biophysics 2011, 152-159. DOI: 10.1007/s11483-010-9200-1