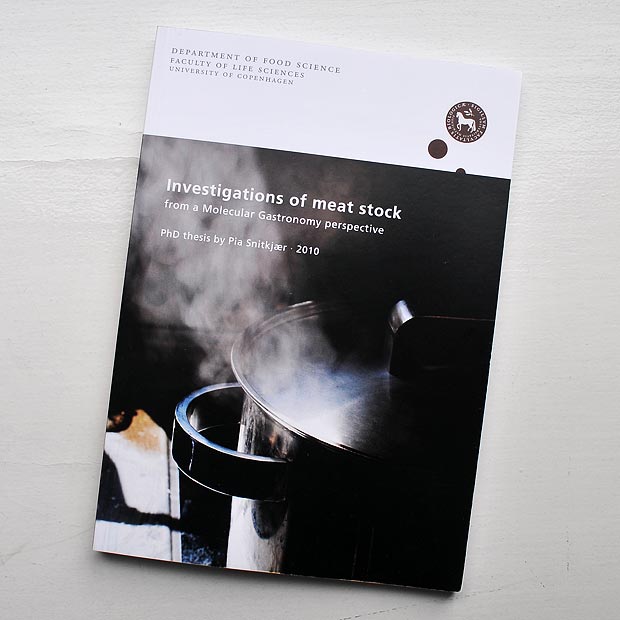 Pia Snitkjær's thesis on Investigations of meat stock from a molecular gastronomy perspective can be downloaded free of charge. Part I includes an excellent introduction to molecular gastronomy, part II covers meat stocks with and without red wine.
Pia Snitkjær was the first student in the molecular gastronomy project at the University of Copenhagen to complete her studies. She defended her PhD thesis on Investigations of meat stock from a molecular gastronomy perspective in December last year, and this was also the topic of her presentation at the recent seminar on molecular gastronomy at the University of Copenhagen. Meat stock is typically prepared by boiling meat, bones, vegetables, spices and herbs, and after straining the remaining liquid it is reduced in volume by further boiling. The central question in the thesis was how the reduction affects the flavor and texture of the stock. Cookbooks only specify the concentration factor, but not the time needed to achieve this reduction.
If you're only interested in the conclusion from a gastronomic perspective the take home message was that the reduction time has a significant impact on flavor. For more flavor you want to do a slow reduction over low heat (see illustration below). But you should not overdo it as this will result in bitter and burned flavors. A reduction time of 15-20 hours seems to be optimal. The simple explanation is that with a high power input volatiles evaporate from your stock pot before they have time to react to generate new flavors (for instance in Maillard type reactions).

Figure from Pia Snitkjær's thesis showing the effect of the reduction time on the aroma concentration of the resulting stock (Copyright Pia Snitkjær, used with permission)
Pia's thesis (free download, 0.7 Mb) has two parts. The first is an introduction to molecular gastronomy, and frankly this is the best introduction that I've read to date on molecular gastronomy! The second part covers preparation of meat stocks with and without red wine.
Pia did two sets of experiments to arrive at these conclusions. In the time experiment she prepared stocks with concentration factors (CF) ranging from 2-12 as a function of the reduction time (3-36 h). Studying the volatiles she found that they fell into three categories:
Decrease: 2-pentanone and 2-propanone (boiling points: 101-105 °C, 57 °C)
Increase up to 15-20 h followed by decrease: 1- butanol and nonanal (boiling points: 118 °C, 195 °C)
Increase: acetic acid and 3-methyl butanal (boiling points: 118 °C, 91-93 °C)
The boiling points illustrate that category 1 is driven off fast due to lower boiling points whereas category 2 will evaporate very slowly (and possibly only be removed through an aerosol). The last category has lower boiling points suggesting that these compounds were not present from the beginning and are only formed after an extensive reduction.
Similarily she observed the following flavor changes of the same time span:
Decrease: boiled meat, nutty, sweet flavor
Increase up to 15-20 h followed by decrease: tar, roast crust
Increase: bitter, burned, sour, astringent
In the power experiment she studied the effect different power inputs (corresponding to reduction time of 4-30 h) have on a stock reduced to the same concentration factor. The resulting flavor profiles were very different with a key result being that a high power input results in a rapid loss of volatiles. A slower reduction leaves more time for new flavors to develop. Further details can be found in the thesis and in the paper Flavour development during beef stock reduction [1].
Pia Snitkjær presenting her results at the recent MG seminar in Copenhagen
There was no time to go into details of her second research paper on red wine in stocks, but the results have been published: Beef stock reduction with red wine – Effects of preparation method and wine characteristics [2]. An important finding was that wine and stock should be reduced together, not separately – this diminished the astringency from the tannins, most likely due to precipitation of insoluble protein-tannin complexes (just like the ones which make Norwegian egg coffee easy to drink). Furthermore it was shown that the initial differences in the aroma profile of the wines was partly eliminated by boiling. The choice of wine however still had an impact on the resulting flavor because the non-volatiles such as sugars, acids and phenolics of a wine did influence the end result. More specifically a reduced stock made with Zinfandel had bread, herb, wine-vinegar and chicken notes whereas a reduced stock made from Cabernet Sauvignon was dominated by beef and onion odors accompanied by a "salt taste and a significantly higher intensity of particulate mouthfeel and bitter taste".
[1] Snitkjær, P.; Frøst, M. B.; Skibsted, L. H.; Risbo, J. Food Chemistry 2010, 645. DOI: 10.1016/j.foodchem.2010.03.025
[2] Snitkjær, P.; Risbo; J.; Skibsted, L. H.; Ebeler, S.; Heymann, H.; Harmon, K.; Frøst, M. B. Food Chemistry 2011, 183. DOI: 10.1016/j.foodchem.2010.10.096