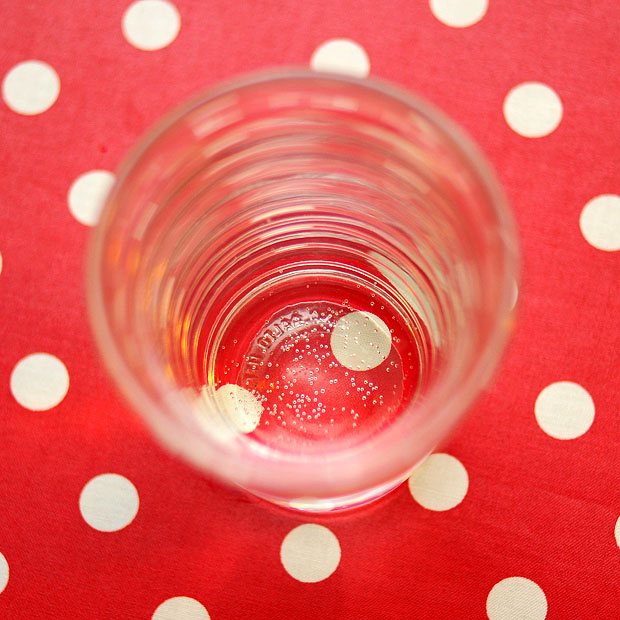 I'm quite fond of carbonated water, and last summer I bought a water carbonator so I wouldn't have to carry all the water home from the shop. The working principle of the carbonater is very simple – a bottle filled with cold tap water is subjected to a pressure of carbon dioxide for a couple of seconds, allowing some of it to dissolved in the water. The result is an instant sparkling water. But even with the carbonation there is something missing. The big difference between my homemade instant carbonated water and bottled mineral water is the mineral content. True, tap water may also contain a number of minerals, but this varies and there are huge regional differences. In Norway most water is very soft (i.e. low in calcium and magnesium) and has a very low mineral content. But tap water rarely has a desirable mix of minerals compared with the really good tasting mineral waters.

Beeing a chemist I started pondering about whether it would be possible to mimic natural mineral waters by adding a clever cocktail of salts before carbonating the water. A real DIY mineral water if you like. The first thing a scientist does these days when a new idea strikes is to google it. I found simple instructions calling for addition of sodium bicarbonate, more elaborate recipes with magnesium sulfate, calcium chloride, potassium bicarbonate and sodium bicarbonate and a recipe for magnesium bicarbonate water where magnesium hydroxide is neutralized by the carbonic acid. But none of these were replicas of actual mineral waters. What I really was looking for was a calculator that would tell me which salts to add in order to clone a specific natural mineral water. But since I couldn't find this I figured I would have to make my own.

Pure carbon dioxide added to water under pressure
Websites such as Mineral waters have comprehensive listings of mineral contents of several hundred commercially available natural mineral waters from around the world. Major cations are calcium, magnesium, sodium and potassium. Major anions are bicarbonate, chloride and sulfate. In addition a number of trace minerals are present at lower concentrations. One thing I've wondered about is which ions contribute most to the taste. The fact that even low concentrations of manganese or iron give an unpleasant metallic taste suggests that the taste of cations is a function of concentration as well as their individual taste thresholds (just like with odorants!). But things are complicated by the fact that iron salts can induce olfactory sensations as well, possibly due to catalytic lipid oxidation. Unfortunately I haven't found scientific papers on which cations/anions contribute to the desirable taste of mineral water (but please let me know if you know any!). Therefore, as a starting point I decided to begin with some well known mineral waters and assume that their mineral content is quite close to an "optimum". Furthermore I decided to only focus on the the major cations and anions.

Carbonation equipment from the book Vollständige Anleitung zur Fabrikation künstlicher Mineralwässer
When searching I got a number of hits in old German books such as íœber die Nachbildung der natürlichen Heilquellen (1824) and Vollständige Anleitung zur Fabrikation künstlicher Mineralwässer (1860) which discuss how to prepare artificial mineral waters with elaborate descriptions of the the carbonation equipment. Sub sole nihil novi est. Germany has numerous spa towns (Ger.: Kurorte) were the local mineral water was (and is) claimed to have health benefits. In the 19th century some spa towns would evaporate their mineral water to yield the contained mineral salts as a dry residuce for the visitors to bring back home. There they could redissolve the minerals in water and enjoy the health benefits in the comfort of their own home.
One of the books had a recipe for "Selterswasser" (Selters water, named after the town Selters):
This recipe corresponds approximately to a water with the following mineral content (all numbers are mg/L): calcium 58, magnesium 32, sodium 232, bicarbonate 603, chloride 195, sulfate 11. The recipe specifically mentions that iron salts and silicates have been left out, and that the total salt concentration has been somewhat reduced compared to the actual mineral water in Selters. We can compare this with a contemporary analysis of Selters water (mg/L): calcium 110, magnesium 38, sodium 299, bicarbonate 850, chloride 269, sulfate 20. We see that the lower salt concentration claimed in the recipe above is actually true. Not bad considering that the recipe was from 1860!
But back to my calculations: As mentioned I decided to make a spreadsheet that would calculate the amounts of salts to mix in order to replicate a mineral water to be chosen from a list. The salts I settled with are sodium chloride (aka table salt), sodium bicarbonate (aka baking soda), magnesium sulfate (aka as Epsom salt), calcium sulfate (aka gypsum), magnesium hydroxide (a suspension of this in water is often referred to as "milk of magnesia") and calcium hydroxide (aka slaked lime or pickling lime). The sulfates are available as anhydrous salts, but to avoid any problems with moisture and storage I've only used the hydrated salts in the calculator. You can download the spreadsheet for Excel: mineral_water_calculator.xlsx (17 kB). There are five simple steps to use it:
Choose which mineral water you want to recreate (click to show drop down list)
Selected cations (calcium, magnesium, sodium) and anions (sulfate, chloride, bicarbonate) are shown
Compare original with composition of the artificial mineral water
Carbonate water and add the calculated amounts of salt
If known, please enter the composition of your tapwater here and the recipe will be adjusted according to this
So far I've only added the composition of 10 mineral waters to the lookup list. If anyone should have an extensive list of mineral water compositions available in excel readable format I'd be happy to include it in an update 🙂

Screen view of my mineral water calculator
Oh – you may wonder if I've tried this? No – not yet. I've spent my time researching this, not testing it yet. But I will buy the required salts and report back! If you happen to have the pure salts available, why not give it a try?
Update: Read more about the latest revision to the excel spreadsheet and actual kitchen tests in Mineral waters à la carte