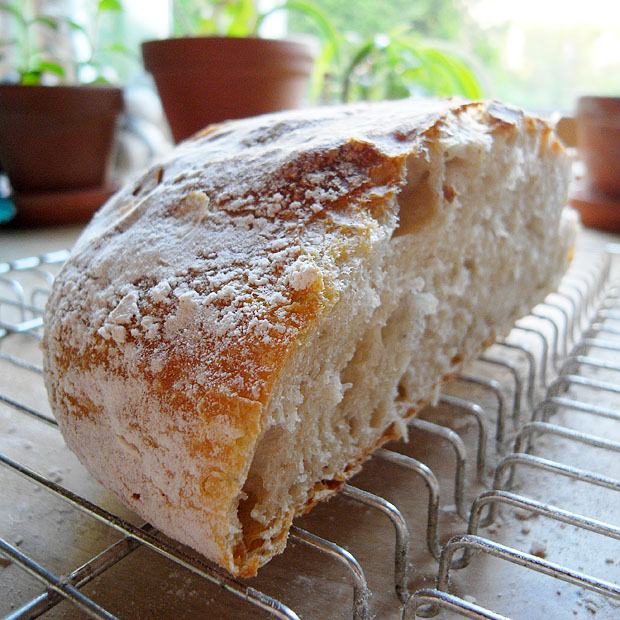 Update: I've written up a short post about no-knead bread in Norwegian – Brød uten å kna – to accompany my appearance in the popular science program Schrödingers katt.
I know – since the NY Times article about Jim Lahey in 2006 the no-knead breads have been all over the internet, newspapers and now even appear in numerous books – this is really old news. But the no-knead breads are really tasty as well, so I hope you'll forgive me! When I give popular science talks about chemistry in the kitchen the one thing I'm always asked about is the no-knead recipe I show, so I thought it was about time to publish a recipe. Surely, everyone can google it – but regrettably many (if not most?) recipes are given in non-metric, volume based units – even Jim Lahey's original recipe. And for baking this is really a drawback because the density of flour depends so much on how tight you pack it. Oh yeah, and I will also try to explain why and how the no-knead bread works.

The stretchy gluten which gives a dough its elasticity is formed when the two proteins glutenin and gliadin bind together. Kneading can speed up this process, but in a wetter dough the mobility of glutenin and gliadin increases, and given enough time they can actually manage it all by themselves. That's why a wet dough needs time to develop the gluten network, but no kneading.

This is to show what 3 g fresh yeast looks like, in case you don't have a balance that can accurately weigh such a small mass.
I've often seen it mentioned that a longer fermentation and/or less yeast gives a richer aroma. I think it's true, but I'm not quite sure why this is the case. If the flavor compounds are produced proportionally to the carbon dioxide, the easiest way to increase flavor would be to up the amount of yeast. A lower temperature and/or less yeast would only mean that it takes longer to produce the same amount of carbon dioxid and flavor compounds. However, most of the advice I've seen about baking suggests that there is a flavor improvement by extending the fermentation time. So to rephrase the question: Why is the desirable bread flavor not proportional to the amount of yeast added? Some claim that the bitter flavor of pure yeast can dominate the flavor of the resulting bread if used at to high levels – but I have never been bothered by yeast flavor, even when using 50 g of fresh yeast for 1-2 kg of flour. But maybe I'm just insensitive to this bitterness? It could also be that the flavor profile produced by the yeast benefits from the lower temperature, but I doubt that one would actually be able to tell the difference in bread (you can easily tell the difference in beer, but here the fermentation may take from days to weeks – see also my post on Baking with hefeweizen yeast). Another possible explanation could be that enzymes, which are present in the flour or slowly produced by the yeast, contribute significantly to the flavor if given enough time. Amylase is one such enzyme which converts starch to sugar. It's naturally produced by yeast, but it's often added in pure form to "industrial doughs" to speed things up. Yet another explanation is that a long proofing time will allow a certain production of organic acids by the bacteria which are always present (this of course is what gives sour doughs their characteristic flavor).
The most unusual step in making no-knead bread is that it's baked in a preheated heavy cooking pan, also known as a Dutch oven, usually made from cast iron. But this is indeed very clever! Professional bakers are lucky to have steam inlets in their ovens, because steam has a heat capacity which is much higher than that of dry air. Because of this the loaf will heat up quicker, giving a better oven spring. But the moist air inside the covered pan does more: as long as the loaf is colder than the pan the moisture will actually condense on the surface of the bread, thereby keeping it moist. This ensures that the oven spring is not hindered by a dry crust. Secondly, this moisture is important for a proper gelatinization of the starch: we are setting the stage for the Maillard reaction.
After about 30 min the lid is removed. At this point one will see the nice oven spring, but also notice that no browning has occured sine the temperature in the crust has been kept below the boiling point due the condensation of moisture on the surface. Once the lid is removed moisture can escape and the temperature in the crust rapidly rises above 110 °C where the Maillard reaction proceeds more rapidly. This is what gives the crust it's nice brown color and also gives rise to the beautiful smell of fresh baked bread. At this point, the total baking time should be determined by the color of the loaf. When the surface is sufficiently browned your no-knead bread is finished.
Salt is very important, so don't omit it from the bread. If you try to reduce the amount of salt in your diet – do so by eating less fast food and industrially prepared food. Don't mess with the salt levels of home baked bread. It's there for the taste, but it also improves the strength of the gluten network.
No-knead bread (based on Jim Lahey's recipe)
390 g all purpose white flour
300 g water (77%)
7 g salt (1.8%)
~1-3 g fresh yeast
Mix everything until the flour is completely moistened. Cover and leave for 15-25 hours. Pour onto a floured surface, fold 3-4 times, shape rapidly into a boule, place it on a generously floured cloth/towel seamside down and proof until doubled in size (~2 hours). Dump seam side up into a cast iron pan preheated to 230 °C and bake with the lid on for 30 min. Take the lid of and bake until the crust has a dark golden color – approximately 15 min.

Proofing the loaf on well floured towel
The percentages in the recipe are so-called Baker's percentages, giving the amount of the ingredients in percent of the flour. The amount of water is often referred to as the degree of hydration. I've had good results with a hydration of 77%, but you may want to adjust this depending on your preferences. In fact, it's impossible to know exactly what hydration Jim Lahey used because of his volume measurements! The recipe posted on the Sullivan Street Bakery's homepage has a hydration of 80%, but I wonder whether the amounts are calculated or measured. My advice is to start at 77% and then adjust up/down in the range 75-80%. By adjusting the hydration you will indirectly also adjust the size of the pores (more water = larger pores) and the moistness of the bread. The higher hydration will of course yield a more sticky dough, but don't forget that it's a no-knead bread, so you're supposed to handle the dough as little as possible.
Regarding the amount of yeast I'd start with 3 g, but if you feel that it rises to quickly you can lower this to 1-2 g. The main reason for this variability is that the activity (= number of living yeast cells) of fresh yeast decreases with time. Homebrewers can calculate exact pitching rates for yeast based on a ~5% loss of viability per week for liquid yeast. My guess is that compressed yeast is more stable, but I haven't been able to find any data on it's viability.

My no-knead breads look a bit different every time I bake them, but that's OK.
The required hydration depends a lot on flour as well of course! No-knead breads can greatly benefit from substituting some of the white flour with whole grain flours, or ancient cereals such as emmer (farro), spelt, einkorn etc. Whole grain flours tend to bind more water though and develop a less strong gluten network. This last point is well illustrated by my failed attempt to bake a no-knead bread with 100% emmer. The resulting flat loaf is shown in the picture below.

No-knead bread with 100% emmer did not have a sufficiently strong gluten network – the bread ended up very flat…
Further reading:
The Secret of Great Bread: Let Time Do the Work (original NY Times article)
No-Knead Bread (original recipe from Jim Lahey)
Soon the bread will be making itself
Simple Crusty Bread (recipe)
No-Knead Bread: Not Making Itself Yet, but a Lot Quicker
Speedy No-Knead Bread (recipe)
Fast No-Knead Whole Wheat Bread (recipe)
eGullet thread on no-knead breads