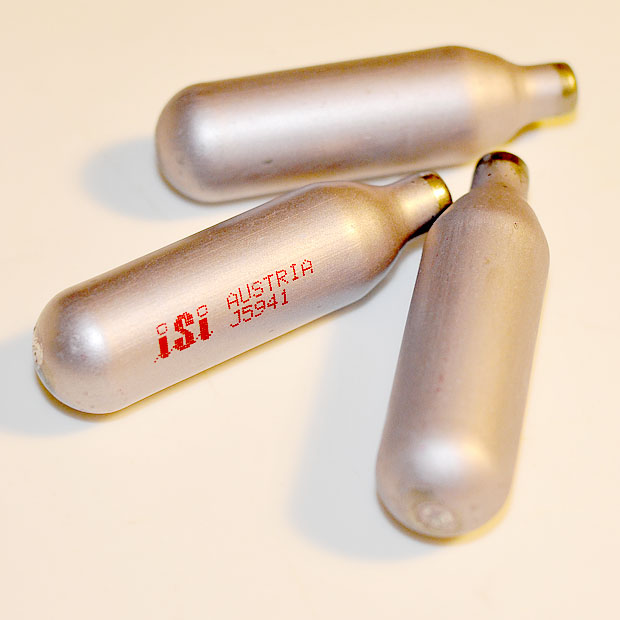 Cream chargers containing 8 g of nitrous oxide each (N2O) to be used with an iSi whipper for whipping cream, making foams/espumas or pressurized infusions.
A little more than a week ago Dave Arnold posted a great, new technique: pressure infusion using a conventional iSi whipper! Just think of it – the whipper has been around for decades, and years a go Ferran Adrií pioneered it's use for espumas. Several have suggested it's use for carbonation of fruit. But no one had thought of utilizing the whipper for infusions – until August 11th when Dave Arnold of Cooking issues posted the results of his experiments in "Infusion Profusion: Game-Changing Fast "˜N Cheap Technique". The first blogger to pick up the technique and post about it on August 12th was Linda of playing with fire and water who termed it a revolutionary technique. A couple of days later, on August 17th Aki and Alex of Ideas in food posted a combined pressurized infusion of basil and marination of mozzarella. And then on August 20th James of Jim Seven describes his results comparing conventional cold brewed coffee to cold pressure brewed coffee. It's really fascinating how fast the idea spread, and it illustrates the benefits of an open and sharing approach to food innovations.

The science behind this is quite simple: in the pressurized canister nitrous oxide (N2O) dissolves and penetrates the food. When the pressures is suddently released (and it is important to release pressure as fast as possible) the sudden pressure drop causes the dissolved gas to nucleate and form bubbles which expand and disrupt cells, thereby releasing flavor compounds. The physical phenomenon is known as cavitation.
A single N2O charger contains 8 g of gas corresponding to 0.1818 moles or a volume of 4.1 L at 25 °C and 1 atm pressure. The volume of the chargers is 0.01 L which gives an impressive initial pressure in the chargers of 445 atm! With an approximate volume of 0.7 L the pressure in an empty whipper charged with a single charge would be nearly 6 atm. When liquids are added the volume decreases, but the effect on the head pressure will depend on the type of liquid added. The solubility of N2O in water is 0.15 g/100 mL at 15 °C, meaning that with 100 mL of water, the head pressure would be roughly 10% higher than in an empty canister (that is, if the solubility is independent of pressure – I'm not quite sure about this). However, since N2O is a rather non-polar molecule the solubility in ethanol or even oils is much greater than in water, with a resulting lower head pressure. But since flavor delivery is mediated by the dissolved gas suddenly nucleating and bursting cell structures, infusions using ethanol or oil will actually be more effective than those with water because more gas can be dissolved in these solvents (besides the fact that ethanol and oil are better solvents for flavors than water).
Thinking about how I could utilize the pressure infusion technique I came to think about the problems I ran into with hay like off flavors in the parsley and banana flavored marshmallows I made for TGRWT #2. The off flavors can be traced back to 3-methyl-2,4-nonanedione which likely stems from oxidation of unsaturated fatty acids or polyenes. Crushing parsley inevitably leads to oxidation (possibly also enhanced by mixing intra and extra cellular comounds/enzymes), but with pressure infusion – practically in the absence of air – seems to be much gentler than crushing according to Dave's initial report (as judged by color). So I did a quick experiment with this, infusing a couple of sprigs in 2 dL of water for about 2 minutes. This was by no means enough, and the water had only a faint aroma of parsley (vodka would of course have been much better for the flavor extraction). But it was a clean parsley aroma, and the water was perfectly clear.