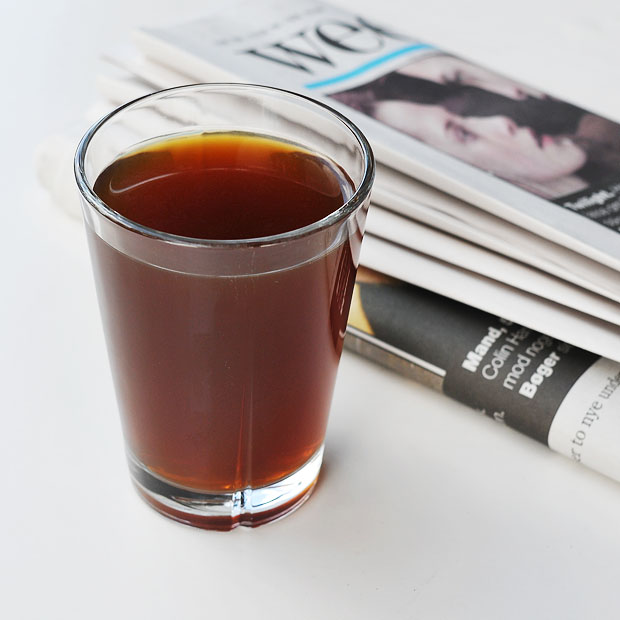 Egg coffee – a mild and refreshing drink that can be served warm as well as cold
I recently stumbled over "Norwegian egg coffee". At first I thought it was a joke, but it turned out that this is indeed an "egg coffee" – coffee prepared with an egg! I have never heard about it here in Norway, but the fact that it's popular among Americans of Scandinavian origin in the Midwest suggests that it could be something immigrants brought with them from Norway (feel free to fill me out on the historic origins of this!). I mentioned egg coffee to my mom, and although she had never heard of it before, she did mention that skin or swim bladders from fish were used when boiling coffee to help clearify it. In fact the Norwegian name for this – klareskinn – literally means "clearing skin". The English name is isinglass (thank's Rob!). Could it be that the fish skin originally used was replaced by eggs, perhaps due to a limited availability of fish in the Midwest? After all, both are good protein sources.



Egg coffee is amber colored and you can clearly see some precipitate from the egg-coffe mixture. If serving the coffee warm it seems to be difficult to totally avoid the precipitate unless you filter the finished coffee through a cheese cloth or filter paper. The coffee in this picture has not been filtered yet.
When looking into the chemistry behind this it isn't as strange as it may sound. Fish skin as well as eggs contain proteins. The addition of proteins while preparing the coffee serves two purposes: 1) it helps the coffee grounds to flocculate, allowing them to sink faster to the bottom of the pot (this effect is probably more pronounced when using eggs) and 2) the proteins bind irreversibly to astringent and bitter tasting polyphenols in coffee to form insoluble complexes that will precipitate. The end result is a clearer coffee with a pleasant and mild taste. The bitterness is only barely noticeable, but the coffee still has enough "body" so it doesn't feel too thin!
Norwegian egg coffee
80 g coarsly ground coffee (rouhgly 200 mL)
1 egg
100 mL cold water
2.5 L boiling water
250 mL cold water
Mix coffee with an egg and 100 mL cold water to a thick paste. Add this mixture to the boiling water, stir carefully and leave to boil for 2-3 min. Remove pot from stove and add the remaining cold water. Let the grounds settle for a couple of minutes, skim off any floating particles, filter through a fine meshed sieve, a cheese cloth or filter paper and serve.
The first time I made this I stirred quite a bit to break up the big lumps. But I was curious whether stirring had any influence on the amount of fine particles, so I repeated the whole process with as little stirring as possible. The lumps of ground coffee where significantly larger, but I couldn't really see a difference on the prepared coffee. There was however a small difference when looking at the glasses from below (see picture below). My conclusion so far is that there is not a big difference, and that it's OK to stir a little at the start to break up the biggest lumps. This will also allow a more complete extraction of the ground coffee.

Difference between much (left) and little (right) stirring as the coffee boils as seen from the precipitate at the bottom of a glass of egg coffee.
The addition of the cold water helps formation and settling of the precipitate. Home brewers talk about a "cold break" when they cool wort rapidly in order to precipitate proteins which have been extracted from the malt. And while we're talking about beer chill haze also comes to my mind. This is the cloudiness that occurs upon cooling beer, and again it's caused by precipitation of protein-polyphenol complexes. The effect of adding only 10% cold water to the still hot egg coffee is of course limited, and won't really be enough to give a "cold break". But since egg coffee has a pleasant taste even when cold, I have decided to cool a whole pot of egg coffee before filtering it. I may post more on how this turns out later, but initial tasting suggests that it's going to be a very nice iced coffee!
The interesting thing about the protein-polyphenol complexes is that we also encounter them when drinking wine (a quick reminder here that polyphenols is a group of compounds which includes tannins). There's a nice experiment you can do to illustrate this which has been published on Khymos previously. When we drink red wine, the tannins react with proteins in our saliva to form water insoluble protein-tannin complexes. A precipitate is formed and as a result, the lubricating properties of the saliva are lost and our tongue feels rough and dry. In other words, we experience the astringency of the red wine. To ilustrate this, try the following (I was first introduced to this experiment at the 2004 International workshop of molecular gastronomy in Erice):
Take a sip of a dry red wine, preferably rich in tannin. Keep the wine in your mouth for 10-20 seconds without swallowing. Spit it into an empty glass and watch how a precipitate forms (this might take a minute or two). Notice how the color changes from red to light red or even pink (see picture below). Rinse your mouth by chewing a piece of bread and drink some water. Take a small sip of the wine that you just spat out (if you dare!). Since the tannins of this wine have already reacted with your saliva, it is as if they were removed from the wine, leaving a fad and flat wine without much taste at all.

Top: red wine. Bottom: formation of precipitate in red wine mixed with saliva.
The saliva flow rate and the concentration of proteins varies from person to person (the latter with a factor of 20). Furthermore the flow rate and protein concentration also varies throughout the day and is also influenced by what you are eating/drinking and even by the smell of food. As a consequence, a person with a high saliva flow rate and/or a high concentration of proteins is more likely to approve of a red wine rich in tannins than someone with a low saliva flow and a lower protein concentration. Knowing this, you should not be surprised that wine preferences can be very individual.