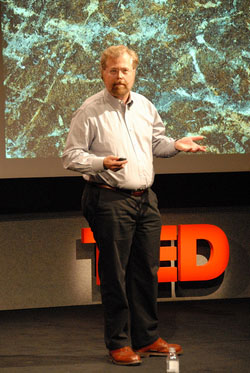 I usually don't post about newspaper articles, but Jack Lang sent out an email on the molegular gastronomy maillinglist today about an article in New York Times: "After Microsoft, Bringing a High-Tech Eye to Professional Kitchens" featuring Nathan Myhrvold. I thought this might be of interest to my readers as well.
If you've played around with sous vide cooking there's a good chance that you've visited the massive eGullet thread on sous vide (currently spanning more than 100 pages and 3000 posts), and in that case you'll be familiar with Nathan's many well informed posts on sous vide. There have been rumours about an upcoming book for quite some time, and things are getting more and more exciting. The last I heard was that he had a team of 5 people working on a book about sous-vide. This has now increased to a team of 15 people, including 5 professional chefs, a photographer, an art director, writers and editors. And there's more:
"The project has grown in size and scope. Originally planned as a 300-page discussion of sous vide, an increasingly popular restaurant technique of cooking food in vacuum-sealed bags in warm water baths, the book has swelled to 1,500 pages that will also cover microbiology, food safety, the physics of heat transfer on the stove and in the oven, formulas for turning fruit and vegetable juices into gels, and more."
Wow! Let's hope that Nathan's "one year left" statement is actually true this time. I'm really looking forward to see this book!