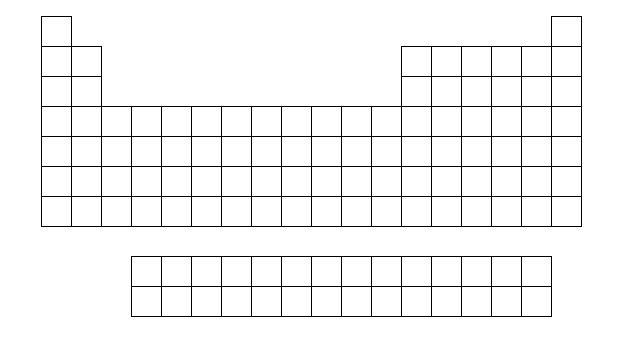 Does food fit into this table?
Here at Khymos I aim to cover things related to food and chemistry, and as I stumbled over a periodic table of cupcakes (with clickable "elements" linked to recipes) I couldn't resist to dig a little deeper. And look what I found! The periodic table of elements is iconic, but the periodic table has also become an organizing metaphor for all sorts of things, including food. The Internet database of periodic tables holds more periodic tables than you could ever dream of, but it's not complete – at least not with regards to food. Here are the food related periodic tables that I've been able to find. Fun? Yes! Useful? No, not really 🙂 At the end of the post I've also included examples of how the real periodic table of elements can be illustrated in a more or less edible fashion. All images are linked to the page where I found them. Are you aware of other periodic tables of food? Please let me know and I'll include them in this post.


Source: Mantis Design. High res available here.

Available as a poster

In case you wondered, it's a periodic table of breakfast cereals!



HighRes flash version

Condiments that periodically go bad

Cupcakes – what else! And each "element" is linked to a recipe. Very well made!

Period table of food from Disneyland in Los Angeles (Photo: Martin Lersch). Click for a larger image.

Available as a poster

Available as a poster

Available as a poster

Available as a poster

HighRes version available

Two cropped scans available from Slashfood. Original was published in "Simple Life" fall 2006.

Available as a poster

Available as a poster

The menu at "Miracle of Science Bar & Grill" in Boston is a periodic table painted on the wall. More info at the C&EN blog. Photo: Scott Beale/Laughing Squid

Periodic table of preserves. Full resolution view available through this preview (browse to page 22 of the preview, book pages 48-49).
The real periodic table of elements represented in food
If you think fitting some kind of food into a periodic table is stretching a little too far, why not make an edible version of the real periodic table? In the process you may even learn the name of some elements 🙂

Photo by melpenguin
---
As the name suggests, the TGIF posts are a little less serious than what I otherwise post here at Khymos. I hope you enjoy it 🙂