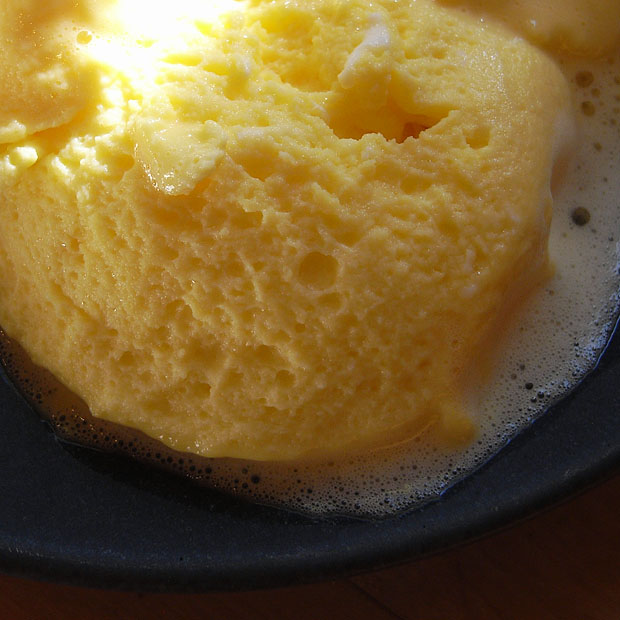 Miss Silvia is full of surprises! She's been around the house for a year, but only now did she reveal one of her hidden capabilities. Did you know that you can make scrambled eggs with the steam wand of your espresso machine? Me neither. It's a brilliant idea and one can wonder why no one has done this before. I mean, espresso machines have been around for a while. And as it turns out – according to Kelly's comment below this was done in San Francisco back in the 90's. It seems as if the credits for rediscovering these scrambled eggs should go to Chef Jody Williams (and thanks to Jessica at FoodMayhem for posting this). I've tried it several times and it works very well. I'd even say that this gives you another reason to purchase an espresso machine with a proper steam wand! Many other reasons can be found in my first post about Miss Silvia.
This is how I make the scrambled eggs: I crack 3 eggs in a 600 mL pitcher (normally used for steaming milk) and press the steam button on my Rancilio. After approx. 10 seconds I empthy the wand of water and wait for another 30 seconds to allow pressure to build up before I start steaming the eggs. Notice that I didn't even whisk the eggs with a fork – the whirling effect of the steam wand is strong enough to get the eggs properly mixed. With my Miss Silvia it takes about 50 seconds before the steam breaks through to the surface. The eggs actually set in the pitcher and I used a spoon to scoop the eggs out and put them on a plate. Scroll to the end of the post for a video illustrating the whole process.

Make sure you clean the steam wand very well after using it for eggs. The best way of softening the protein residues is to immerse the steam wand in cold water.
I have tried to add a little milk to 3 eggs before steaming, but interestingly I wasn't able to get this mixture to set properly. I say interestingly, because even though the scrambled eggs failed I figured that steaming perhaps could be a good way of preparing custards. Holding the pitcher one has pretty good control of the temperature, and also very efficient aeration. It could even that this is a more robust way of preparing a custard? This needs experimenting – and you are more than welcome to join me! And why stop with custard? How about a sabayon? Basically any egg based sauce could be prepared with a steam wand.
Update (added on October 25th)

In the comments there was a question about what would happen with egg whites. I had 3 leftover eggwhites so I added some sugar and tried to steam them. They fluffed up very fast and I was not able to control the process. I spooned the result onto a plate and as you can see the result was quite regrettable. The whites lost a lot of liquid.
I also tried to make a simple sabayon using 1 egg yolk, 30 g sugar and 60 mL of white wine. I got a frothy texture, but when I poured into a glass it separated quite fast. I think the main problem here is scale – on such a small scale it's really difficult to control the temperature. I presume that this could be easier to control by tripling the amounts.
[Found via the Norwegian food blog Ordentligmat]