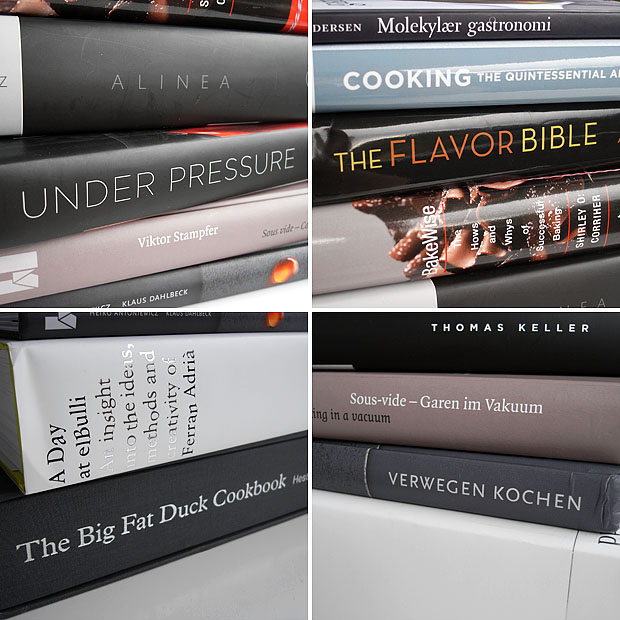 Last year's book bonanza (Remember The Big Fat Duck Cookbook, Alinea and Under pressure right? Not to mention BakeWise, The Flavor Bible (not science, but I love their systematic approach), Cooking – The Quintessential Art, A day at el Bulli, the bilingual Sous-Vide, the German Verwegen Kochen and the Danish Molekylær gastronomi – did I miss any?) will be difficult to beat, but several interesting books will appear this fall as well. It's as if this field is exploding with books now. When I first set up the webpages which later evolved into Khymos only a handful of books were available (you can travel back in time and view the single page from 2003 – only in Norwegian, sorry), but even I have a hard time now keeping track with all the books which cover the interesting intersection between cooking and science, aka molecular gastronomy. Sometimes I think – is this book really necessary? Do we need it? What does it add? But addicted as I am, I can't help it – so I'll probably get hold of most of these books as they become available 🙂
Hervé This is a pionéer of molecular gastronomy and has an impressive publication list in French. Fortunately more and more of his books are now becomming available in English as well. In recent years we have seen Building a meal, Cooking – The Quintessential Art, Kitchen mysteries – Revealing the science of food and Molecular gastronomy: Exploring the science of flavor. His latest book The Science of the Oven is scheduled to appear in September/October. According to the publisher Hervé This unravels "the science behind common culinary technique and practice" and "translates the complex processes of the oven into everyday knowledge for professional chefs and casual cooks; demystifies the meaning of taste and the making of flavor; describes the properties of liquids, salts, sugars, oils, and fats; and defines the principles of culinary practice, which endow food with sensual as well as nutritional value". As usual I haven't been able to identify the original title in French, maybe someone can help?
For the first time ever, every single dish served at elBulli has been collected in a single book. The book Food for tought: Thought for food explores the creativity of Ferran Adria and his team and features a " lively dialogue between the most potent critics and creators of the art and gastronomic worlds, including Heston Blumenthal, Bill Burford, Jerry Saltz, Massmiliano Gioni, Anya Gallaccio, Peter Kubelka, Antoni Miralda, Carsten Holler, Bice Curiger, Adrian Searle, Davide Paolini". -Professionally, I can die after this book, says Ferran Adria. In case you wondered about the cover drawing – yes it's Ferran Adria drawn by Simpson creator Matt Groening. (If you're not famous enough to have him portray you check out the website simpsonizeme in stead.)
The no-knead bread has been a craze on the internet since the 2006 article in NY Times. From a chemical perspective two things are particularily interesting about this bread. First, by using a wetter dough the mobility of glutenin and gliadin increases, allowing sufficient gluten to form without kneading. Second, by baking the bread in a preheated pot with a closed lid one emulates the effect of a professional steam oven – the higher humidity gives a more efficient heat transfer, better crust formation and ensures a proper oven spring. There are several other books which ride the wave of "no-knead artisan breads", but it's probably worth lending an ear to Jim Lahey who (to the best of my knowledge) pioneered this. His book My Bread: The Revolutionary No-Work, No-Knead Method is scheduled for release in October.
When reading up on sourdougs I was a little disappointed by The bread bible (but what more is to expect when one of the best books I've found on the subject is the much more technical-not-for-the-general-audience Handbook of dough fermentations by CRC?). However, the books by Peter Reinhart have been more rewarding. I own Crust and crumb and I've learnt a couple of things from that book. As the title of his latest books suggests, Artisan breads every day, Reinhart incorporates the latest no-knead, no-fuzz trend in this book. The publisher promises that the book will teach you how to bake the "highest quality loaves", and I'm quite sure you will if you follow the recipes carefully. But that you'll be able to do so "in a fast and convenient fashion" is perhaps a little too optimistic. When did artisan breads become fast and convenient?
As the title of Modern Gastronomy: A to Z by Ferran Adria suggests, the book has a lexical format and covers the terminology used to describe "the nature of ingredients and why these ingredients produce certain reactions". It's written in plain language and even claims to teach the readers "everything they need to know about the science of cooking". I seriously doubt that claim, but the book is probably quite useful anyway as a starting point and a handy reference guide. And one more thing – it's published by CRC, a publisher that normally addresses a professional audience. Too me it suggests that the book is quite different from The Science of Good Food: The Ultimate Reference on How Cooking Works (which is OK, but not superb).
And finally, for those who didn't fork out a fortune to buy Heston Blumenthal's monumental The Big Fat Duck Cookbook last year, now is your chance to buy a cheaper version of the same book! Seriously – if you're only buying one book this year, get this one. You get the complete content of the book that was published last year, minus the luxurious box, silver edged pages, colored ribbons and a couple of pounds! The book is in fact three books in one – you get an autobiography of Heston and the history of The Fat Duck, you get 50 signature recipes and in the third section a number of essays on the science behind it all.
I think I've covered the most relevant "sciency" foodbooks appearing this fall, but feel free to fill me inn if there are books I have overlooked.