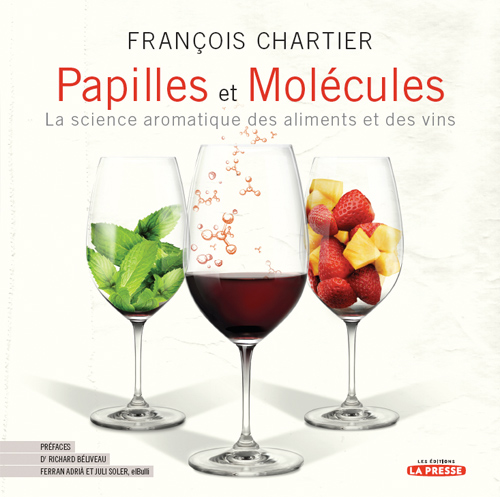 The Canadian sommerlier Franí§ois Chartier (he has an extensive website featuring several blogs, including a section named Sommellerie moléculaire) is out with a new book on food and wine pairing. It's not just another (superfluous) book on the subject. As the title Papilles et molécules (= Tastebuds and Molecules, unfortunately not available in English) suggests there is some science involved. It turns out in fact that he has applied the principles of flavor pairing to food and wine. With help from Richard Béliveau from Agriculture and Agri-Food Canada and Martin Loignon from PerkinElmer he has analyzed wines and food and comes up with the following suggestions for lamb, as described in the article "Chemistry-set wine pairing":

Having roast lamb? Don't waste it on an ill-advised red Bordeaux, the old standby trotted out by generations of sommeliers. Lamb's characteristic flavour comes from thymol, an aromatic compound found in the oil of, yes, thyme. It's also a flavour note associated with red wines from the southern Languedoc region of France, such as Minervois, Corbií¨res or St. Chinian.
Other combinations mentioned in the article include:
rosemary – white wines from northern Alsace
pork – oaked red wines
curries – viognier
cinnamon – pinot noir, grenache, ice cider, oloroso sherry
Franí§ois Chartier also introduces "bridge ingredients". Mint, which goes well with sauvignon blanc, shares aroma compounds with parsley, fennel and tarragon. Based on this he theorizes that sauvignon blanc should also pair well with dishes based on these ingredients.
As far as I can see (with my very limited high school French) there are no links or references to all the other activities in the field: Heston Blumenthal's pioneering of the concept together with Franí§ois Benzi from Firmenich, the Food pairing website – not even to the TGRWT food blogging event 🙂 Nevertheless it's nice to see that the concept has now been applied to food and wine as well. As I don't own the book yet I can't tell whether Franí§ois Chartier includes odor activity values in his discussion or not (but I certainly hope he does!).
Update: The book is now available in English as Taste Buds and Molecules: The Art and Science of Food With Wine.