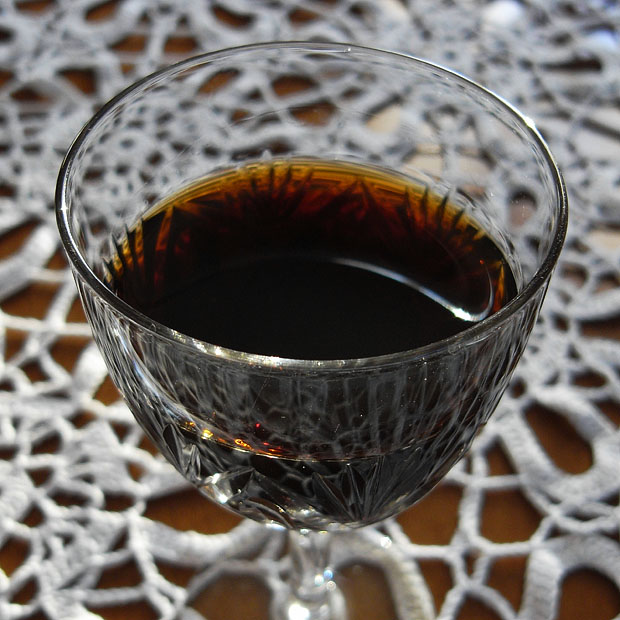 As I mentioned in the post about the exciting color chemistry of nocino I picked some unripe walnuts last year in August when visiting family in Germany. These walnuts were in fact a little to ripe to make nocino from. Preferably the walnuts should be picked end of June when you can still push a knitting pin through the center. Mine were stone hard, but I decided to give it a try anyway, and it shure was worth the bottle of vodka! I checked a couple of recipes and found that many use cinnamon and cloves together with lemon (with peel). I figured I also wanted to try star anise and proceeded with two batches.

Nocino extracted with 45% ethanol
For extraction (> 3 months)
529 g unripe walnuts
385 g 60% ethanol
140 g water
Spices and sugar
4.0 g cinnamon stick
1.2 g star anis
1.2 g cloves
12 g lemon wedge
100 g sugar
Nocino extracted with 60% ethanol
For extraction (> 3 months)
481 g unripe walnuts
436 g 60% ethanol
Spices and sugar
0.8 g star anis
7.8 g cinnamon
12 g lemon wedge
100 g sugar
I covered the walnuts with alcohol in August last year and let them rest for almost 8 months (you can probably do with less, especially if you quarter the walnuts). I then removed the walnuts and added spices, lemon and sugar. After two days I removed the lemon wedge and approximately one month later I filtered off all the spices. As you can see from the pictures below the filter easily clogged. Using normal coffee filters I had to change them roughtly 4-5 times for each batch. I let the filtered nocino rest for some more weeks and then carefully decanted it into a glass bottle, leaving the newly set residue behind. If desired the nocinos can be diluted with water and/or vodka.

Precipitation in nocino extracted with 60% ethanol shown (upper left), filtering was slow (upper right) due to extensive clogging (lower left). A black film had also formed on the inside of the glass.
Nocino tastes marvellous, despite the motor oil like appearance during steeping! The difference between the two ethanol concentrations was less than I had expected. There was significantly more precipitation of black particles with the higher ethanol concentration. Both were however very drinkable! The only thing I might change the next time I attempt this is the amount of spices. I felt that the spices were perhaps a little too dominant and overpowered the walnut flavor, but the flavor was nice anyhow. Since I used walnuts that were a little too ripe it might be that less flavor was extracted, so I assume that my nocino is weaker compared to nocino made with the proper unripe walnuts. This might as well explain why the spices were a little too pronounced.

Update: Reading Elise's comment below I realized that there was one thing I forgot to mention. Since the walnuts were picked late I could neither cut them in half nor pierce them. After extraction I tried to cut a little into the soft shell under which the black walnut shell is barely visible.
I've seen a recommendation to try nocino with strong cheese whereas others prefer it over vanilla ice cream. I've also come across two recipes for nocino ice cream so it's a quite versatile liqueur!