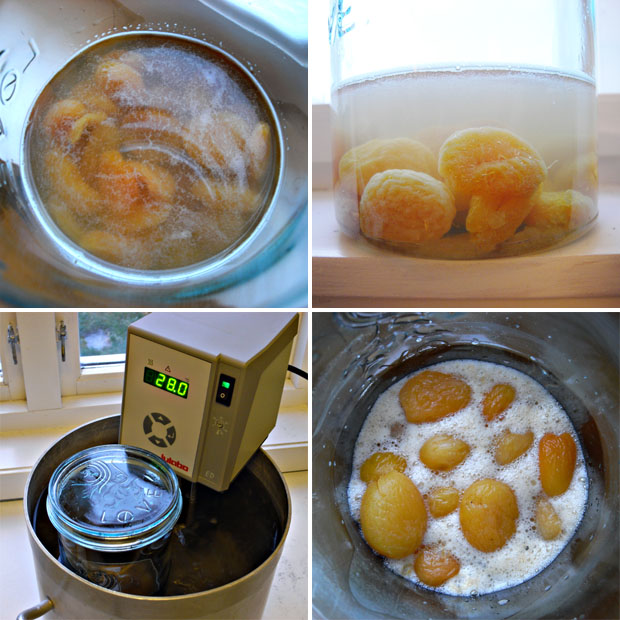 Attempt to make a sourdough starter using dried apricots, using my immersion circulator for temperature control. I got some bubbling yeast activity, but the final bread dough never rose properly.
Inspired by the Swedish bread blog Pain de Martin which I recently discovered I decided it was time to have a go at sourdough breads! Although one of my favorite types of bread it's a long time since I gave it a try and even longer since I actually succeeded. Leaving apple peel covered with water for two weeks in a cool place (15 °C) I got a light apple cider which I used to make a starter some years ago. I followed a recipe from the Norwegian artisan bakery í…pent bakeri and it gave a marvelous bread. But since then I've tried to repeat this twice without success. No wonder that even Rose Levy Beranbaum in her book "The Bread Bible" writes that she didn't intend to include a chapter on sourdough at all. There's no doubt that sourdoughs are tricky, but I was a litte surprised and disappointed that someone who sets of to write a 600+ page book on bread even considered to skip sourdough… Luckily she changed her mind and the introduction has a fascinating nice-to-know fact: 1 g flour contains about 320 lactic acid bacteria and 13000 yeast cells!
I believe one the reasons why sourdoughs seem to live their own lifes sometimes is that they need to be kept in a warm place. My kitchen isn't that warm so I figured it was time to use my immersion circulator and give sourdough another chance (who says you can only use immersion circulators for sous vide anyway? – I think my next project will be to make yoghurt!). With a thermostated water bath keeping a sourdough starter at constant temperature is as easy as 1-2-3. But surprisingly I haven't seen any blogposts yet from people using their sous vide water baths for sourdough starters (although some have built their own water baths for this purpose using aquarium equipment).



Fresh apple peel in water. This particular experiment failed – the cider smelled OK, but there was quite a lot of mould on the surface after two weeks so I didn't dare to proceed …
It was Martin's post on an apricot starter that triggered my desire for sourdough (but careful – never close your jar with a rubber as shown in his picture!). I got a bag of dried apricots and gave it a try. There was some bubbling and it smelled quite nice, but the bread dough never rose properly. I later found out that in a comment to the first post and a later post on the same topic it was pointed out that the apricots should not be treated with sulfur dioxide or a sulfite (used to conserve the fruit, appears on labels as E220-228 in Europe). That's very obvious once you think about it, because the sulfur dioxide/sulfite is there to kill microogranisms and increase shelf life. For a sourdough however you want living microorganisms! The solution to this is to use untreated dried apricots. I haven't been able to find any yet, but I'll definitely give it a new try once I find some! Other options of course are to use dried or fresh apples, pears, grapes – preferably not treated with pesticides or sulfur dioxide – as the surface of these fruits are host to many yeasts.

A relatively firm rye starter with 150 g water and 200 g whole grain rye flour (left) shows signs of yeast activity after 24h at 28 °C (right).
Having failed with the apricot starter I decided to give a traditional rye sourdough a try, using a recipe from the book "Brød" (=bread) by "í…pent bakeri". I got a nice bubbling after 1 day, but the starter was pretty dry. As I discarded a portion and fed more flour and water to the starter it seemd as if it died… I (believe) I followed the recipe very accurately (except for the very first day where I opted for a hydration of 75% instead of 60%), but the final dough never rose, so I had to cheat and add bakers yeast in order to actually get the breads baked. Acid production was fine however and the resulting flavor was very delicious and I got the crumb that I desired! However, with all these problems I figured it was time to turn to the scientific litterature and read more on sourdouhs … More on what I found out in a follow up post.
One last thing: Despite my limited experience with sourdoughs I've already been a little annoyed by recipes for starters that require one to discard a significant portion of the sourdough every day before feeding the start with more water and flour. One obvious way around would be to start at a much smaller scale so that every feeding can be done without having to waste any sourdough. In fact Kurt Janz already has a post with detailed instructions on a less wasteful sourdough (and he BTW has one of the most comprehensive sites on sourdough I'm aware of including a sourdough calculator). The only reason I could think of why one perhaps would want to use more than a couple grams of flour to start with would be to outnumber any unwanted yeasts or bacteria from the air or the equipment. Is this the case? Are there any other reasons? To circumvent this one would simple have to work very clean and wash all equipment properly.