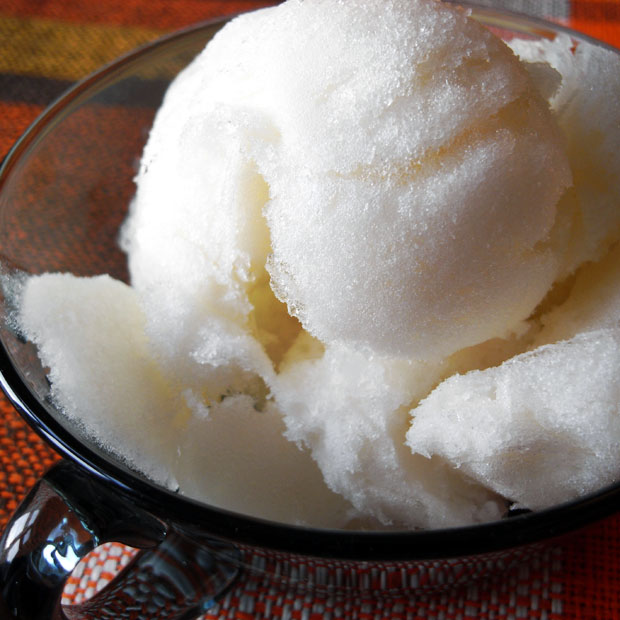 As I mentioned in the previous post I put the leftover rose froam from TGRWT #16 in the freezer and was surprised by the result. Inspired by this I thought I would extend this and substitute apple juice for water for TGRWT #17. As apple juice is quite sweet I started off with 20 g sugar, but once frozen it lacked sweetness and even was a litte icy, so I upped the amount to 40 g. The picture above may suggest that the foam could be served for dessert, but read the verdict before you make huge amounts of the foam.
Frozen rosy apple foam
2.1 g xanthan (0.50%)
3.6 g methyl cellulose (0.85%)
40 g sugar
6.5 g rose water
300 g apple juice
70 g lemon juice
Grind xanthan, methyl cellulose and sugar in mortar (easier dispersion of hydrocolloid in water). Mix liquids in a bowl and disperse sugar and hydrocolloids into solution with a hand held immersion blender. For better foam production change to tilted disk attachmend or use an electric whisk. Freeze.
Verdict: Aroma wise I was quite satisfied and even my wife liked it. The rose flavor was pronounced but not overwhelming and balanced nicely with the apple. I had to use quite a lot of lemon juice though to get it acidic enough for my taste. The texture was not as smooth as I had hoped for however. It was a little icy and even brittle when scooped and certainly need improvement if I'm to make this again. Another disappointment was the aftertaste – it was actually not good at all. I suspect that it's one of the hydrocolloids. Anyone have similar experiences? As it is now I would not serve the frozen foam as a dessert because of the aftertaste. But it could work well as an element in a dish. And I was thinking if adding a little fat, for instance as cream, could help both the texture and remedy the aftertaste?

I only used my new Bamix for dispersion and whipping this time. First with the knife attachment for dispersion (top left) and then with the tilted disk for whipping (top right). Compared with the rose foam I made for TGRWT #16 using a conventional hand mixer the bubble size was more non-uniform when using the Bamix (bottom left). The foam scoops nicely when frozen, but texture leaves a little to desire (bottom right).