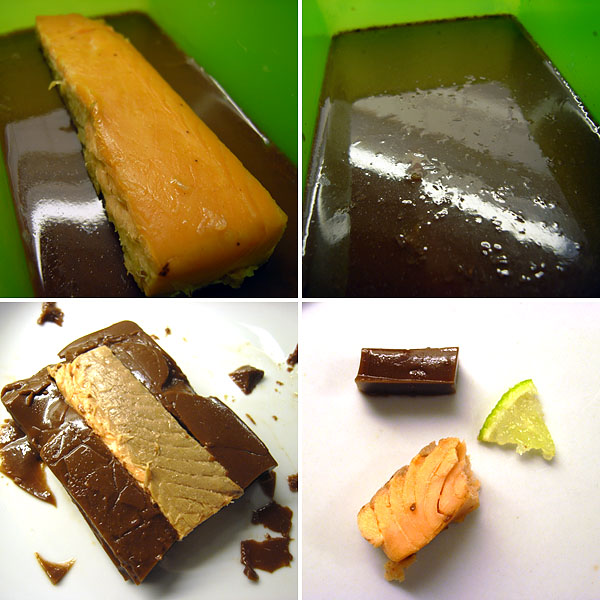 The TGRWT #15 challenge was to pair smoked salmon with dark chocolate. I decided to encase a piece of hot-smoked salmon in a cocoa gel and serve it with sugared slices of lime. But as you can see from the pictures quite a lot went wrong… But it tasted quite nice!

Smoked salmon encased in agar cocoa gel
Agar gel:
400 g water
10 g cocoa
35 g sugar
2.5 g beef stock powder
10 g balsamico vinegar
35 g lime juice
1.8 g agar (0.37%)
smoked salmon
lime
sugar
Combine all ingredients for the gel and bring to boil. In a suitable (shallow) tray, pour one layer and leave to gel. Place salmon on top and pour more of the hot agar solution. Leave to gel and repeat until salmon is complete covered. When gelled, invert and slice carefully. Serve with thin slices of lime sprinkled with sugar.
Verdict: Even though I didn't have time to finish the dish presentation-wise, I did of course taste the different components together. The lime added much needed freshness to the cocoa gel and combined well with the fish. The cocoa was not overpowering. The dish will work fine for a starter or as finger-food once I get the presentation right.
Lessons learnt
For layered agar gel preparations it's crucial that the next layer is poured while piping hot so that it can melt a little into the layer below. Because of agar's significant hysteresis the gelled agar must be brought up to around 80-90 °C to melt.
The box I used was way too deep (and the best at hand at the moment), but it might have worked if I had lined it with plastic wrapper. The layers came apart as I was trying to get it all out of the box. A higher agar concentration would make for a stronger gel, but it would also trap more flavor. Possibly it would also be more difficult to get the layers stick together at higher agar concentrations. Does anyone have experience with layers agar preparations?
The hot-smoked salmon tastes very nice, but it's texture was a litte to tough. I tried making slices, but both the salmon and the cocoa gel fell apart. This could be solved by switching to cold-smoked salmon. But a potential problem here might be that it will become "cooked" (and change color from translucent to opaque) once the hot agar solution is added. In that case one might have to revert to gelatin which melts at lower temperature.