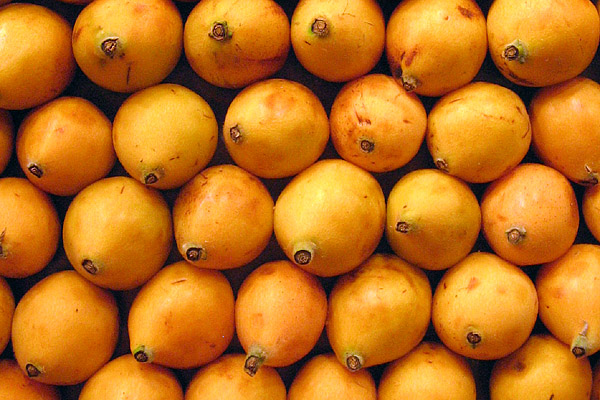 Loquat fruit (known as pipa in Chinese) piled up at Mercat St. Joseph in Barcelona.
Molecular gastronomy was recently chosen as word of the month (not quite sure exactly which month this was). They give the following definition:
the art and practice of cooking food using scientific methods to create new or unusual dishes
This is not the best definition I've seen, to be honest. Why should one limit it to new or unusual dishes? When taken to extremes this only results in gimmickery. Strangely enough there are no hits when I search for "molecular gastronomy" at www.askoxford.com, so one might wonder whether they changed their mind? Personally I feel that molecular gastronomy should strive to improve both home cooking and restaurant cooking. That's also what I tried to convey with my 10-part series with tips for practical molecular gastronomy.
The Webster's New Millennium dictionary has this definition:

the application or study of scientific principles and practices in cooking and food preparation
This definition includes both the fundamental scientific aspects and the applications of these. But to me it's too close to "food science". Where is the enthusiasm? Where is the delicous meal with tempting aromas and textures? As you might know several definitions have been launched over the last couple of years. My favorite definition is still Harold McGee's (although he does no longer use the definition himself): "Molecular gastronomy is the scientific study of deliciousness". In my opinion it joins the two worlds which for too long have been separated – the world of science and the world of gastronomy and everything delicious.
It was a German blog post by Benedikt Köhler over at molekularküche (German blog on molecular gastronomy) that made me aware of the Oxford dictionary definition, and he also reminded me of the hype cycle, a term coined by the US based analyst house Gartner (read more about it in the book "Mastering the hype cycle"). It features the following 5 phases shown below and I agree with Benedikt that these terms can also be applied to the rise and fall (and hopefully also resurrection) of molecular gastronomy:
1. Technology Trigger
2. Peak of Inflated Expectations
3. Trough of Disillusionment
4. Slope of Enlightenment
5. Plateau of Productivity
Phase one started as the term was first used in the 80's, and I guess it all peaked sometime between 2004 and 2006 with chefs all over wanting to cook with liquid nitrogen and other fancy stuff. Then, with the statement on new cookery by Adria, Blumenthal, Keller and McGee and Heston's declaration that "molecular gastronomy is dead" we had clearly reached the trough of disillusionment. Today however we're past that point.

Hype cycle (Concept copyright by Gartner, diagram by Jeremy Kemp under CC-SA).
Benedikt Köhler writes that we're now on our way to the slope of enlightenment, and personally I think we might've reached the fifth phase already, the plateau of productivity. Molecular gastronomy is a term that will live on for years to come, only to disappear as the results and ways of thinking become so common that they're simply referred to as "cooking" and the result as "really good food" (to quote Michael Ruhlman).
As you might have noticed I've decided to stick with one term – molecular gastronomy – for both the scientific, technological and practical parts of "science enabled cooking" (a term Harold McGee uses in The Fat Duck Cookbook – I think that's a good term). Just like the word "chemistry" is used to describe fundamental research and technological applications I can't see why the applications of molecular gastronomy (i.e. the food) should be given a different name than the fundamental scientific studies. Some (including Hervé This) have proposed terms such as molecular cuisine or molecular cooking to cover all the practical aspects in order to reserve molecular gastronomy for the "pure science". There was a debate last year in August on the molecular gastronomy mailing list and Hervé This participated and defended his viewpoint (as he also does in a recent blog post). I actually didn't take part in the discussion as I had a pretty long private email discussion with Hervé back in 2007 following the EuroFoodChem XIV conference. The conclusion was that we disagree.
I don't think we should ditch molecular gastronomy, just because it was hyped. But I suggest that we use it to describe more than foams, alginate spheres and liquid nitrogen ice cream. Do you agree?