Having received a real kitchen gadget before the weekend, I certainly had to do some sous-vide experiments. While shopping I looked specifically for meat that was already vacuum packed in plastic bags as I do not have a food saver. There is actually a decent selection available and I got a 1.5 kg roast beef and a chicken breast (a particularily nice one, bred according to the Label Rouge principles). The nice thing about the meat I got was that the packaging had temperature suggestions. Even though I have books and tables and access to the internet it's always nice to have this information available exactly when and where you need it. And as I dropped the meat into the water bath it occured to me that this was so simple (not that I shun complex recipes), so clean (I'm not afraid of a messy kitchen) and so convenient (I'm not at all a fan of fast food) that given the expected end result this is probably how very many people will prepare their meat in a not to distant future! So to all farmers, butchers and producers of immersion circulators – I hope you read this and act accordingly 😉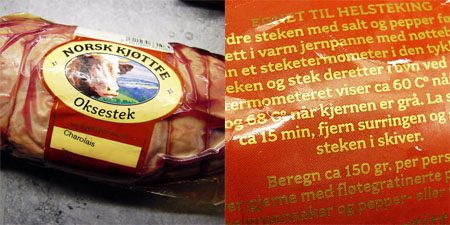 The suggested temperature range for the roast beef was from 60 °C for a pink interior to 68 °C for grey meat. I settled on 63 °C. I was a little optimistic regarding the timing, so when our guests had arrived and I checked the meat (after 1h 30m) the core had only reached 53 °C. First lesson learnt: meat is a poor heat conductor. I quickly figured that my guests would become very hungry if I were to wait for the core temperature to reach that of the water bath. I therefore turned the water bath up to 68 °C, and put the meat back into the water bath – this time in a normal plastic bag and with a temperature probe at the core. This worked surprisingly well, the pressure of the water pushing out all the air. After another 45 min it had reached 62 °C and I removed the meat from the water bath, saved the juices for the gravy, rubbed the meat with salt and pepper and gave it a quick pan sear with plenty of butter. Despite my bad timing the beef came out extremely moist and tender – I dare say that I have never before achieved such a result with a roast beef in my kitchen! And being my first attempemt at sous-vide with my immersion circulator it was extremely satisfying.
Today I prepared the chicken breast, and I figured that 1h 30m should be sufficient for 700 g of meat. The chicken came out very nice as I served it with fresh pasta, a curry sauce and some salad. Again the meat was moist and tender – and so different from most of the chicken I've prepared both at home and been served at restaurants.
I should also mention that I made 68 °C eggs this morning. I left them in the water for 1h. The egg white was very soft – almost runny – whereas the yolk had set but was still very pliable. Comparing this with the eggs over at Fooducation it's clear that even with constant temperature time does play a role. My 1h @ 68 °C eggs had a white that looked more or less like the white of Erik Fooladi's 6h @ 65 °C eggs. The are probably several reasons for this, but I guess that the kinetics of protein coagulation are mcuh more complex that one might expect at first. But that's a different story.
Several comments to my last post asked about pricing and where to buy immersion circulators. Basically any laboratory supplier sells these. And even the simplest models have temperature stability of +/- 0.1 °C or less. There are also a couple of models available from Fischer/Thermo Scientific ranging from around $900-2000.