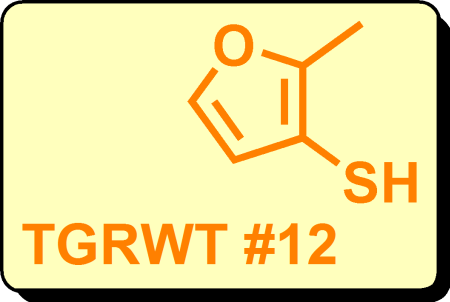 Tri-2-cook has announced the foods to pair in the twelfth round of "They go really well together" (or TGRWT for short): apricot and chanterelle. More information on how to participate can be found in the announcement post. If the ingredients are out of season where you live, remember that you can use ingredients that are dried, canned or preserved. The heating and/or air exposure can of course alter the flavor composition, but it's still worth giving it a try.
Regarding the chemistry behind this flavor pairing I've found the following. Based on quantitative measurements Greger and Schieberle identified 18 compounds with odor activity values (OAVs) greater than 1 in apricot (Prunus armeniaca). I have not been able to locate any studies of chanterelle (Cantharellus cibarius) with OAV values, but there are a couple of articles which list volatile compounds. Comparing these lists with the OAV data for apricots there is not much overlap. The only compounds which had an OAV > 1 in apricots and were also found in chanterelle are 1-octen-3-one (OAV in apricot = 55) and hexanal (OAV in apricot = 15) shown in the figure below.
It's interesting to note that OAV studies often come with certain surprises regarding flavor compounds. As Greger and Schieberle point out in their abstract:
certain lactones, often associated with an apricot aroma note, such as gamma-undecalactone, gamma-nonalactone, and delta-decalactone, showed very low OAVs (<5) (...) Omission experiments indicated that previously unknown constituents of apricots, such as (E,Z)-2,6-nonadienal or (Z)-1,5-octadien-3-one, are key contributors to the apricot aroma.
Some compounds that are present at higher concentrations are less important because they have a high odor threshold, whereas other compounds which are present in minute quantities play important roles because we can detect them at very low concentrations. Once again this shows how important it is to use OAV values when looking for flavor pairings!