It's time for the TGRWT #11 round-up. I apologize for the small break since TGRWT #10, but now we're definitely back. Many exciting recipes this time – and great photos too! Not all were a great success judging by the comments though. But several give their concoctions a thumbs up and a "will definitely cook again" verdict.
As we have seen earlier, the challenge of these pairings is getting the balance right. Several have felt the numbening effect of cloves. This is due to eugenol, the main component of clove oil, which acts as a local anasthetic (and surprisingly celery also has sufficient levels of eugenol to cause numbening in some individuals!).
If you missed the deadline and are still working on a blog post – please let me know and I'll update this post. And if you're ready for a new challenge be sure to check out what we're up to in TGRWT #12 which has already been announced!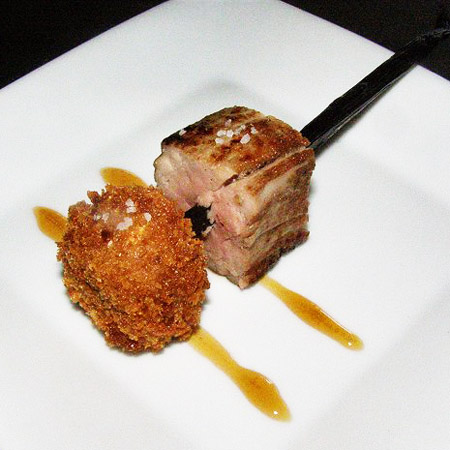 Pork-banana-clove
by Tri-2-cook
Verdict: I liked the banana and clove as a flavor pairing and thought it worked really well with the pork (…) I was happy with the result and I'll definitely do it again.

Banana and cloves Pisang Goreng
by Mededelingen van Land en Tuinbouw
Verdict: Yummy! A bite of the soft bananas with a little lump of clove brings out a very rich taste. The aftermath, when the flavour comes back through the nose, is wonderful.

Banana Mousse and Clove Caviar
by A Chef's Journal

Banana Clove Truffles
by Hungry soul kitchen
Verdict: These were overly sweet (…) white chocolate, banana, and clove go well together, just don't let one overpower. Banana and clove itself is excellent and I will experiment with these two a lot more.

Banana-Soufflee with cloves
by Lamiacucina
Verdict: When tasting I would have guessed cinnamon as a spice. Cloves go very well with banana.

Banana and clove milkshake
by Fooducation
Verdict: (…) banana milk shake is on the brink to being insipid. The cloves made a difference, adding another note to the drink. Conclusion: I find the banana-clove combination to be successful.

BFBWWTFDIDWTLOB Biskit
by aka R'acquel
Verdict: "Interesting" – and nothing more, but definitely – "interesting".

Viper's Bile Green Curry Paste
by aka R'acquel
Verdict: (…) experienced a mild high after this meal – fairly resonant to the sensation of drinking kava.

Banana cake with cloves
by Grydeskeen
Verdict: When eating the clove-injected banacake the first impressions was like a spice cake, where the texture was like a bananacake. You could feel the banana in the mouth, but only hints of the taste was there. The taste then evolved into more regular cloves taste, and the aftertaste was a slightly bitter cloves taste, which lasted for hours.

Ginger-Glass bowl of banana mousse with cloves biscuits and lemongrass jelly
by Alessio Fangano
Verdict: The biscuits results fragrant (…) cloves appear as a back taste that spikes when biting over a shard releasing a sensation of freshness. (…) The foam exhales an equilibrated scent of rose water and banana (…) the recipe works quite well though the cloves biscuits need some further development.

Arretjes Banoffee Pie with cloves and pecan nuts
by Kokrobin (recipe)
Verdict: You'd think there was too much going on, but it wasn't that bad. I think it really worked. Well, for my mouth, not my hips.

Banana Clove Canolli
from Blogquat
Verdict: The banana was subtle, yet lingering and deep. The clove, on the other hand, was at first over powered by the white chocolate, but then remained the lasting taste in my mouth.

Banana Martini with Clove "Olives"
by Blogquat
Verdict: (…) the vodka made my head numb and the clove made my tongue numb. This could be a dangerous drink!

Banana breads with cloves
by The bite size
Verdict: Cloves and banana is a match! Actually, I think bananas go very well with all these "autumn/winter" spices such as cloves, cardamom, nutmeg, pepper, anis, vanilla etc.

Banana chutney
by Kookjegek
Verdict: I liked the sweetness of the banana & red onion together with the distinct flavor of the clove. Although I used a tablespoon, which in my opinion is a lot, it worked for me as a combination.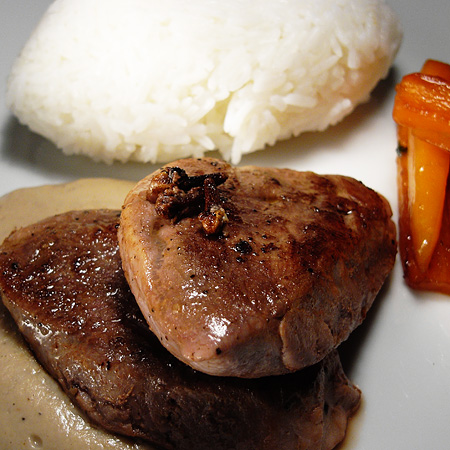 Pork tenderloin with banana and cloves
by Khymos
Verdict: I enjoy the combination of sweet and salty tastes in the banana sauce. I goes very well together with the pork.
(no picture)
Banana Clove Yoghurt Shake
by M
Verdict: Not bad but I could not detect the taste of clove.

40-second banana cake
by Mex Mix
Verdict: Just out of the microwave the cake appeared almost salty and with a lot of cheese aroma. It wasn't the taste I was looking for. Colder however, the sweetness came out and it was just what I had in mind. (…) The purée tasted quite good, with the aroma of the cloves really coming forward and marrying itself with the banana.

Dehydrated banana with clove
by Cooking Sideways
Verdict: I was surprised how much flavour got into the bananas, considering I had only stuck the cloves in moments before drying. (…) A really good snack to eat on its own, probably not a strong enough all round taste for most culinary uses though.

Banana and cloves bavarian cream pie
by Koken met Frank
Verdict: At first glance the cloves tasted too strong. But the freshness of the lemon and the softness of the cinnamon flattened this penetrating taste and became in harmony with the cloves. Only the first bite of the pie was of strange taste, the latter bits were amazing, the cloves struggled to be the strongest tasting component, but the cream and milk kind of covered your tasting buds a bit such that the combination of all the flavors got to its best extend.