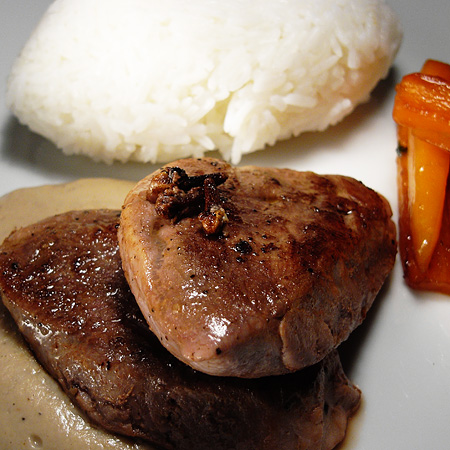 I'm a big fan of using bananas in savory dishes, so for TGRWT #11 I decided to make:
Pork tenderloin with banana & clove sauce
450 g pork tenderloin
2 bananas, sliced
10-15 cloves (less if you use ground cloves)
black pepper, ground
cooking oil of choice
1-2 T crí¨me fraí®che
Pack meat in plastic bags with a little oil, banana slices, cloves and pepper. Suck out air and seal. Sous vide* for 60 min or more at 60 °C. Leave meat to rest while making sauce: purée bananas with some cloves and crí¨me fraí®che using an immersion blender. Add ground pepper and salt to taste (use powdered meat stock if desired). Keep sauce warm in a water bath. Sear the tenderloin slices on both sides. Serve with rice and glaced carrots.
* Can one use "sous vide" as a verb, just as to google has become a verb?
Verdict: I enjoy the combination of sweet and salty tastes in the banana sauce. I goes very well together with the pork. The meat was perfect throughout with a pale pink color (quite difficult to reproduce this color correctly when processing the picture…). The sauce was quite thick and should be served in moderation since it's quite sweet.
I actually prepared 4 different packs of meat for the sous vide. Meat with and without bananas and/or cloves. What I found out was that the meat didn't really take up much of the banana flavor, so I could just as well have put the banans and the cloves for the sauce in a separate bag which would have allowed me to leave the meat in the water while I was making the sauce.

I used "freezing" bags which are thicker and sucked out the air with a vacuum cleaner 🙂