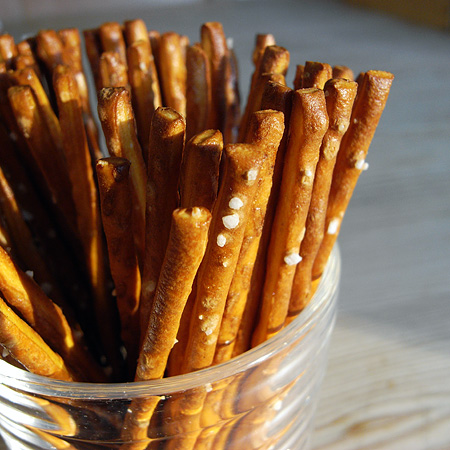 Ever thought about how pretzels and salt sticks get their nice brown color?
The products of the Maillard reaction provide tastes, smells and colors that are much desired and lend their charachteristics to a variety of foods. In this post I will focus on the factors that influence how fast the Maillard reaction proceeds. And more specifically I'll give examples on how the Maillard reaction can be speeded up. This is not about fast food, nor is it about saving time. It's more about controlling the browning reaction by speeding it up or slowing it down in order to get a desired end result.
The Maillard reaction is, to put it simple, a reaction between an amino acid and a sugar (there's more on the chemistry at the end of the post). To speed it up you can do one or more of the following:

add
protein (egg, milk)
reducing sugar (glucose, fructose or lactose)
remove
water
increase
temperature
pH
Chances are you have already utilized this in the kitchen without knowing. When eggs or milk are used for glazing, they act as a protein source for the Maillard reaction, giving a nice brown color. Milk also provides lactose which is a reducing sugar. You've probably also observed that temperature does influence browning. Water content is indirectly related to temperature – as long as there is water present, temperature will stay below 100 °C. But once the bread crust dries out the conditions are just right to get the Maillard reaction running.
The same principles are applied to microwaveable pies. The microwaves primarily interact with water and hence only bring the temperature up to the boiling point of water. In order to get sufficient Maillard productcs at these temperatures reducing sugars and amino acids are added to the crust (as exemplified in this patent where dextrose and whey solids are used). Not so surprisingly there is also a patent on how to avoid excessive browning in cookies which calls for addition of a polycarboxylic acid ester to lower pH and hence slow down the Maillard reaction.
Pretzels are an extreme example of how the Maillard reaction can be tweaked. Before baking the pretzels are brushed with lye, a dilute solution of sodium hydroxide, which is very basic. The high pH speeds up the bottleneck of the Maillard reaction (see end of post for details).

A pinch of baking soda can bring out a new taste dimension when browning onions
Another basic ingredient found in most kitchens is baking soda (sodium bicarbonate, NaHCO3). It's used as a leavning agent which requires addition of an acid to function. Since it is a weak base, it can be used to increase the pH and hence the speed of the Maillard reaction, for instance when browning onions. This basic task, which isn't always so easy after all, benefits greatly from a pinch of baking soda (and surprisingly it seems that this hasn't been done before!). To illustrate this I've made a time lapse video of chopped onions being fried with and without baking soda. The frying took 11 min, but things are speeded up about 10x.
Samples taken throughout the experiment are shown in the picture below. Even after 4 min there is a visible difference. After 11 min, the small addition of baking soda has yielded onions which taste remarkably sweet with strong caramel notes, compared to the control which tastes like fried onions.
Another example of how baking soda is used to speed up the Maillard reaction is dulce de leche, a popular sauce/caramel candy in Latin America. It's made by slowly boiling sweetened milk. Baking soda is not a required ingredient, but is often included. The baking soda gives dulce de leche a darker color and also contributes to the flavor.

Photo by audinou from flickr.com.
It should perhaps be added that baking soda is frequently used in Chinese cooking, for instance in tempura batters and marinades. Once there, the baking soda will certainly speed up the Maillard reaction, but it also affects the texture of meat – I'll have to return to that topic later.
To round of this post I will briefly touch upon one of the reasons why pH influences the Maillard reaction. The first step involves a reaction between a reducing sugar (depicted as R(C=O)H) and an amino acid (depicted as R'NH2) followed by loss of water to yield a Schiff base. The Schiff base rearranges to the Amadori product (not shown). Of these first steps the formation of the Schiff base is the bottleneck (rate limiting step). The reactivity of the amino acid is influenced by the pH. A simplified reasoning goes like this: At low pH the amino group is protonated, yielding it less nucleophilic. At higher pH, the nitrogen becomes more nucleophilic and at very high pH the amino group can even be deprotonated. It should be noted that the fate of the Amadori product is also in large determined by pH and hence pH will affect more than just the rate, but this is far beyond the scope of this blog post.
Further reading: Maximizing Food Flavor by Speeding Up the Maillard Reaction