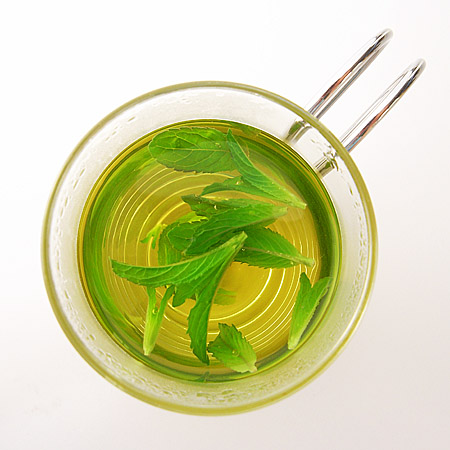 Extraction of peppermint leaves with hot water
Water is a polar molecule, meaning that one end has a small negative charge and the other a small positive charge. Because of this water is a very good solvent for other polar molecules and ions. For instance water is the solvent of choice for substances that provide taste, be it salt, sour, sweet or bitter as these are normally quite polar molecules.
A general rule is that the solubility of molecules and ions increases with the temperature of the water. Extractions are therefore faster if the water is boiling. This is the reason why we use hot water to extract tea leaves or ground coffee beans, even if we want to prepare ice tea or ice coffee. But by lowering the temperature and extending the extraction time we can change the relative proportion of what we extract. It therefore makes perfectly sense that different temperatures are recommended for different types of tea. Using different temperatures for the same kind of tea will of course also influence the flavor profile.
Polar molecules are more easily extracted than non-polar molecules. This is evident if we leave a tea bag for a long time in hot water. The bitter taste is due to the slow extraction of large polyphenol molecules which are less soluble in water. If tea is brewed at a lower temperature, less of the bitter tasting substances will be extracted.
Although water is polar, less polar and even non-polar substances can be extracted with water, especially if the water is boiling hot. You do this every day when prepare coffee. If you take a close look at cup of freshly brewed coffee you can notice small pools of oily substances floating on top of the coffee. The more severe conditions used when extracting coffee to make an espresso ensure that even more oily substances are extracted. Other examples of extraction using water in the kitchen include preparation of stock, soups and gravies.
The principle of extraction is simple, but a number of questions remain largely unexplored with regard to flavor: How do ions affect extraction? What role does pH play? How does temperature influence flavor? There is surprisingly little research on this that includes a sensory evalution.