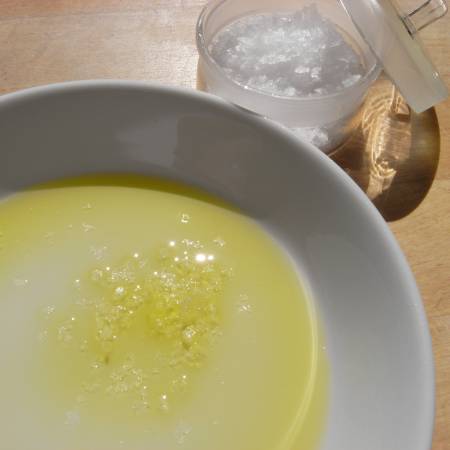 Salt in oil. According to Pierre Gagnaire, this is Hervé This' main discovery. It allows him to sprinkle salt on dishes without the salt dissolving in water from the dish. Thereby the "crunch" of the salt is retained.
Rob Mifsud, perhaps best know for his Hungry in Hogtown blog has interviewed Hervé This. At the end of the interview Hervé lists 10 elements of basic kitchen knowledge. Some may seem obvious, but they are not, according to Hervé. Here's the list so you can judge by yourselves:
Salt dissolves in water.
Salt does not dissolve in oil.
Oil does not dissolve in water.
Water boils at 100 °C (212 °F).
Generally foods contain mostly water (or another fluid).
Foods without water or fluid are tough.
Some proteins (in eggs, meat, fish) coagulate.
Collagen dissolves in water at temperatures higher than 55 °C (131 °F).
Dishes are dispersed systems (combinations of gas, liquid or solid ingredients transformed by cooking).
Some chemical processes – such as the Maillard Reaction (browning or caramelizing) – generate new flavours.